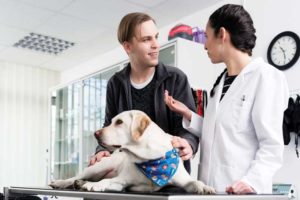 Nutraceuticals are commonly defined as nutritional supplements designed to improve overall health or address specific conditions. They are a relatively recent phenomenon in small animal medicine, but are growing in popularity, as pet owners increasingly look for new ways to keep their pets healthy.
According to the American Pet Products Association (APPA), an estimated 26 percent of dog owners and 13 percent of cat owners regularly give their pets vitamins and other supplements. Using such products is driven by multiple factors, including the use of nutraceuticals by pet owners themselves, says Robert J. Silver, DVM, MS, CVA, a former private practitioner who now works in the supplement industry.
"A lot of families are giving their kids fish oil and probiotics," Dr. Silver notes. "They want to provide the same [nutraceuticals] to their four-legged family members."
A belief that nutraceuticals are safer and just as effective as traditional medicine also informs the decision for many pet owners, explains Brennan McKenzie, MA, MSc, VMD, cVMA, a small animal veterinarian with Adobe Animal Hospital in Los Gatos, Calif., and Veterinary Practice News columnist.
"Some of the popularity of nutraceuticals has to do with the fact they give clients a sense of control over their animal's health," Dr. McKenzie says. "There certainly is the perception that because something is derived from a food, it must somehow be safer than medicines. I don't necessarily believe that to be true.
"I think it's worth mentioning there is growing reason to doubt the assumption that supplements are almost always safe," McKenzie adds. "Just recently, a large study confirmed an earlier finding that men taking B vitamins doubled their risk of lung cancer. And despite great popularity and promising lab results, we are finding more and more, after years of widespread use, that supplements we all assumed to be helpful don't actually do what we thought."
Eclectic ingredients
The various ingredients found in veterinary nutraceuticals are vast and range from vitamins and minerals to fish oil and amino acids to newly developed botanicals. One of the most popular veterinary nutraceutical categories is joint health, which includes products such as glucosamine, says Bill Bookout, founder of the nearly 270-member National Animal Supplement Council (NASC), a trade association for veterinary nutraceutical manufacturers and related businesses.
"One statistic I've seen is that 40 percent of nutraceutical sales are for joint care or discomfort," Bookout says. Also popular are essential fatty acids for skin and coat health, probiotics for gastrointestinal (GI) health, herbal hairball products for cats, liver and kidney products, and multivitamins, he adds.
According to Silver, NASC is working to bolster the nutraceutical industry through third-party inspections of manufacturers' facilities and random analysis of products to see if they meet label claims. The organization also maintains an adverse event reporting system for animal nutraceuticals and nutritional products, and educates its member companies in meeting current Food Safety Modernization Act (FSMA) and other necessary U.S. Food and Drug Administration (FDA) Center for Veterinary Medicine (CVM) regulatory compliances.
Nutraceuticals can be used by themselves, but are recommended often as a complement to traditional medicine for a broad range of health issues. Arthritis is a big one, followed by skin and coat problems such as itching, says Nancy Scanlan, DVM, MS, CVA, executive director of the American Holistic Veterinary Medical Foundation (AHVMF). Nutraceuticals also are commonly recommended for cardiovascular disease, periodontal disease, behavior problems, and cognitive decline, among other issues.
Nutraceuticals are even being used to ease the discomfort of chemotherapy and radiation therapy in animals with cancer.
"Nobody is going to cure cancer with nutraceuticals, but these products can help with the side effects of treatment," Dr. Scanlan says. However, veterinarians must be knowledgeable about both timing and dose, as certain nutraceuticals can interfere with treatment efficacy, she adds.
The research issue
While many nutraceuticals have a long history of use in humans with studies to back up their efficacy, there is far less research into their use in animals. According to McKenzie, that needs to change.
"Many of these products are quite plausible and promising avenues of exploration," he says. "Unfortunately, the tendency is to come up with an idea with perhaps some very limited evidence from lab animals or research that's been done in humans, and then create a product, market it aggressively, and maybe later there will be research done into it. This is kind of a backward way of approaching it."
Research into veterinary nutraceuticals may be limited, he adds, because unlike pharmaceuticals, it isn't legally required by any official body.
"Nutraceutical manufacturers aren't required to get premarket approval or perform post-market surveillance," he says. "That leaves it to the manufacturer to do it on its own. Some will do so out of a sense of good stewardship or because it provides a good marketing opportunity. Occasionally, independent researchers at universities will do so out of their own academic interest."
Advocates agree more research into nutraceuticals is needed, but say there is quite a bit out there.
"Anyone who says there is no research just isn't looking," Silver says.
"People who insist they are not going to use nutraceuticals until they see the research in dogs and cats are going to wait a long time because that's low on the list of things research gets funded for," Scanlan explains. "But if they are willing to at least consider humans as a good lab animal example for dogs, there is increasing research on many of these products."
Generally speaking, nutraceuticals are considered safe when used as directed. Interactions with medications or other nutraceuticals are a possibility, but not a big risk.
"There aren't a lot of huge issues regarding interactions," Silver says. "However, doctors do need to be aware of them, and there is good info and references out there about that."
More concerning is the possibility of a nutraceutical overdose because a client neglected to tell their veterinarian about the products they are giving their pet—and the veterinarian didn't ask.
Scanlan recalls a case in which a dog experienced frequent bladder stones regardless of the pH of its urine. When she asked the owner about supplements, she learned the patient was receiving four calcium products.
"It couldn't help but make stones because there was so much calcium in its urine," she says. "When the supplements stopped, the stones stopped."
A solid income stream
Pet owners can purchase nutraceuticals from their veterinarian, through online pharmacies, or at any number of big-box stores. Veterinary practices that don't sell such products, or offer only a limited selection, are missing out because nutraceuticals can provide a very good income stream, says management consultant Wendy S. Myers, CVJ, owner of Communication Solutions for Veterinarians Inc., and Veterinary Practice News columnist.
"Clients want and expect medical advice from their veterinarians," Myers says. "If a pet has chronic GI issues, it might benefit from a therapeutic diet as well as supplements to promote a healthy gut."
Myers also suggests practices pick a preferred brand and sell it exclusively to clients.
"Veterinarians cannot be Walmart and carry every supplement and nutraceutical on the market because it's too time consuming for inventory management and they can't order enough large quantities to be price-competitive," she explains.
Phrasing is very important when discussing nutraceuticals with clients, Myers adds. She strongly advises against using the word "recommend," and suggests the word "need" instead. "Recommend means it's just a suggestion; it lets people wiggle out of doing it," she says. "Instead, say their pet needs this probiotic because it's going to improve gut health."
Even something as simple as body language can influence a client's decision to buy nutraceuticals from you, Myers says. She suggests having the conversation in the exam room, where it is private and the client can ask questions, as well as removing physical barriers.
"Never talk across the exam table," she says. "Instead, come around to the end of the table so you are shoulder to shoulder, and then go through the information. Research shows 65 percent of people are visual learners, so help them understand by providing medical illustrations and product literature to show clients why they need this product."
Once a client agrees to use a nutraceutical, the challenge then becomes how to keep them coming back. Myers encourages practices to place a prescription label on every box to remind the client where they bought it and who to contact for refills. It also behooves practices to have their own online store if possible, as today's pet owners expect the convenience of home delivery. If you can't provide it, there are plenty of online pharmacies that will.
Lastly, Myers recommends sending out refill reminders, which can take the form of emails, texts, and even postcards.
"Online pharmacies send an average of 18 reminders to customers, and 1-800-PetMeds has an 83 percent refill rate on medications," she notes. "The key is to proactively remind clients and not wait until they are completely out of a supplement and must call the hospital to get more."