Suggested Veterinary Products
The Ohio State Veterinarian received the award for his outstanding contributions, dedication and service to the veterinary profession, the community and animals.
"He has served the animal kingdom, the general public and his colleagues by giving an active voice to the veterinarians of Ohio," said OVMA President Jason Johnston, DVM, during the awards ceremony at the OVMA's annual Midwest Veterinary Conference in late February. "Through his knowledge, compassion and dedication to the profession, he has strived to ensure that only the highest standards of veterinary medicine are practiced in Ohio."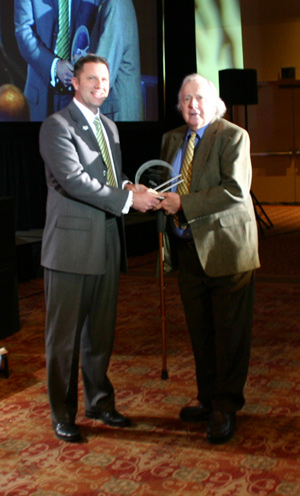 Dr. George Kukor (right) receives the Distinguished Service Award, presented by Dr. Johnston.
Among other accomplishments, Dr. Forshey took on the task of shepherding the work of the newly formed Ohio Livestock Care Standards Board in 2010. It is a role that has been critical in advancing fair, humane standards, Dr. Johnston said.
The OVMA also recognized George Kukor, DVM, for his contributions to the profession with the Distinguished Service Award.
The award recognizes an individual for exemplary service, commitment and dedication to the veterinary community.
"During his career, he has never stopped giving back to the profession he loves," Johnston said. "His contributions have spanned three decades and have helped to shape the OVMA into what it is today."
Dr. Kukor of Westerville was instrumental in founding the OVMA's member newsletter, The Observer, according to OVMA. Since its inception in 1973, he remained involved, regularly contributing a column of member news and events. Kukor put down his pen in January.
Joe Cornely, long-time host of The Ohio Veterinarian on the Buckeye Agriculture Radio Network, received the Friends of Veterinary Medicine Award, which recognizes an individual for service to and advancement of Ohio's veterinary community.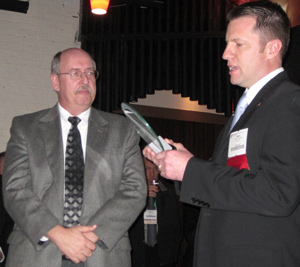 Dr. Johnston (right) presents Joe Cornely with the Friends of Veterinary Medicine Award.
Cornely is also the senior director of corporate communications at the Ohio Farm Bureau Federation.
"Joe has helped champion countless issues of importance in the areas of sound animal care, disease prevention, public safety and the unique role veterinary medicine plays in countless small communities across Ohio," Johnston said. "In doing so, he has raised awareness of veterinary medicine and made its critical role in agricultural production even more visible."
Cornely hosted The Ohio Veterinarian for more than two decades. The weekly program, which featured OVMA member veterinarians sharing their experience on various topics, recently ended its more than 20- year stint on the airwaves.