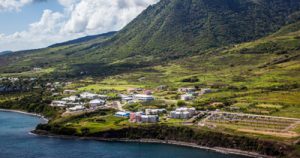 The One Health Research Foundation (OHRF), a 501(c)(3) nonprofit public charity, has named its inaugural board of trustees along with its mission to "improve human, animal, and environmental health in the Caribbean and other tropical areas of the world through support of integrative, multidisciplinary research and innovation."
Established in 2017, the One Health Research Foundation is based in Miramar, Fla., with an office at the Ross University School of Veterinary Medicine (RUSVM) in St. Kitts. RUSVM contributes to the foundation and provides research space in its new research and pathology building and office space on campus. The foundation was organized for charitable research and training purposes, and its charitable activities will be both in the U.S. and abroad, with a special focus on the Caribbean.
"The One Health Research Foundation aims to be recognized as a premier charitable organization that promotes and advances a One Health, transdisciplinary approach to address societal needs," said Robert Bergquist, MD, PhD, OHRF board president. "OHRF provides support to qualified scientists and students, partners, and programs through grants for research, innovation, and training, primarily aimed at security in relation to zoonotic, vector-borne, and other infectious/parasitic diseases, food and feed safety, ecosystem health, and health with reference to human/animal interactions."
The OHRF board will ensure all programs supported by the foundation are reviewed regularly for impact.
Directors for the OHRF are:
Robert Bergquist, MD, PhD (President): World Health Organization/World Bank/UNDP/UNICEF Special Programme for Research and Training on Tropical Diseases (retired) and editor-in chief, Geospatial Health, Brastad, Sweden
Modesto Cruz, MD, PhD (Secretary): Director, Research Institute of Microbiology and Parasitology; professor, Faculty of Sciences, Autonomous University of Santo Domingo, Dominican Republic
Ray Kaplan, DVM, PhD, DACVM, DEVPC: Professor of parasitology, Department of Infectious Diseases, University of Georgia College of Veterinary Medicine, Athens, Ga., USA
Hazel Laws, MBBS, MPH: Chief medical officer, Federation of St. Kitts and Nevis, Basseterre, St. Kitts, West Indies
Christopher Oura, BVetMed, MSc, PhD, MRCVS: Professor of veterinary virology, Faculty of Medical Sciences, University of the West Indies, Port of Spain, Trinidad
Stanley White, PhD (Treasurer): Dean, St. Kitts satellite campus, Ross University School of Medicine, West Indies
Visit ohresearchfoundation.org to learn more about the One Health Research Foundation.