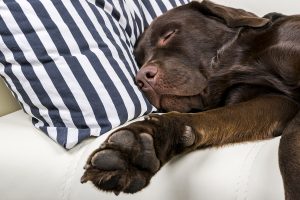 A new standardized method for diagnosing joint disease in dogs is now available.
The Canine Osteoarthritis Staging Tool (COAST) is a collaboration between Elanco Animal Health and COAST Development Group. The staging system can be used on all dogs, including those who are preclinical and those with established signs of the disease.
Developed by nine clinical experts, the tool aims to improve diagnosis and monitoring of dogs with osteoarthritis (OA), with the potential to guide disease-management plans.
"Until now, a standardized way hasn't existed to diagnose and stage OA with risk factor analysis in subclinical dogs," said Mark Epstein, DVM, DABVP, CVPP, who led the "Rethinking Canine Osteoarthritis" presentation at the 2019 Veterinary Meeting and Expo (VMX) in Orlando, Fla.
"I'm excited to highlight this tool that will revolutionize the way we approach OA, with a goal of better outcomes for dogs with this debilitating disease."
OA is a progressive degenerative disease primarily driven by developmental orthopedic disease. It is one of the most common causes of chronic pain in dogs.
For the staging system to work, a grade of severity is assigned to the affected joints, as well as the dog as a whole, reflecting the extent to which OA affects the animal overall.
Consolidation of the grades into a measure of overall disease severity enables classification of the patient into one of five COAST stages of OA.
Click here for more information on COAST.