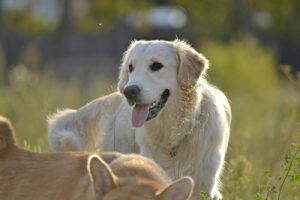 Oregon State University's Lois Bates Acheson Veterinary Teaching Hospital is now enrolling dogs with mammary cancer in a new clinical trial.
Dog owners considering standard tumor removal surgery may be able to choose a new surgical procedure involving an intravenous injection of a cancer cell-illuminating nanoparticle compound that highlights exactly which tissue needs to be removed.
After the mammary tumor is removed, the surrounding tissue is irradiated with an infrared laser that causes the nanoparticle compound to heat up, killing any remaining cancer cells. The compound, developed by researchers in the Oregon State University College of Pharmacy, has been found to effectively cure cancer in mice.
The new procedure eventually may be most beneficial for treating tumors in challenging anatomic areas, such as the brain and spine, according to Milan Milovancev, DVM, DACVS-SA, an OSU associate professor of small animal surgery participating in the study.
The Oregon State University Carlson College of Veterinary Medicine is a member of a national consortium of veterinary oncology centers, managed by the National Institutes of Health, with a focus on translational veterinary medicine.
Owners who believe their pets may be good trial candidates can ask their veterinarian for a referral or contact OSU to learn more.