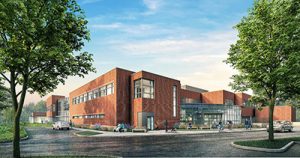 Oregon State University's (OSU) Carlson College of Veterinary Medicine hosted a groundbreaking ceremony on June 20 to kick off a 21,729-square-foot expansion of Magruder Hall that will improve instructional space and increase services at the small animal hospital.
Over the next two years, the college will add a 100-seat lecture hall and two wings to the small animal hospital. One new hospital wing will house oncology, cardiology, and internal medicine; another will house a linear accelerator for a new radiation oncology service.
The small animal hospital has treated more than 20,000 animals, primarily cats and dogs, since its opening in 2006. Over the past five years, the hospital's caseload has increased an average of 9.1 percent annually.
Adding a linear accelerator for radiation oncology to the hospital's existing chemotherapy services means OSU will be able to provide comprehensive cancer care to patients in one location for the first time. Many owners must currently travel out of state for access to advanced cancer care for their animals.
The added lecture hall also helps meet needs of the growing veterinary medicine program, which recently increased enrollment from 56 to 72 students per year.
The expansion is supported in part by a $5 million gift from Gary. R. Carlson, part of his $50 million commitment to the college announced earlier this year, and by earnings from the Lois Bates Acheson Endowment.