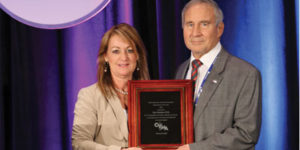 The Ohio Veterinary Medical Association (OVMA) has named Dave Bauman, DVM, as the Veterinarian of the Year for 2018.
Outgoing OVMA president Liesa Stone, DVM, BS, presented the award to Dr. Bauman at the association's annual Midwest Veterinary Conference.
"A lifetime of achievement as an educator, a volunteer, and a veterinarian clearly represents the qualities worthy of recognition as veterinarian of the year," said Stone, as she gave Bauman the award.
Bauman has dedicated more than four decades to the veterinary profession. He taught laboratory animal medicine at the University of Cincinnati (UC) veterinary technology program for 42 years and served on the OVMA board of directors for 18 years.