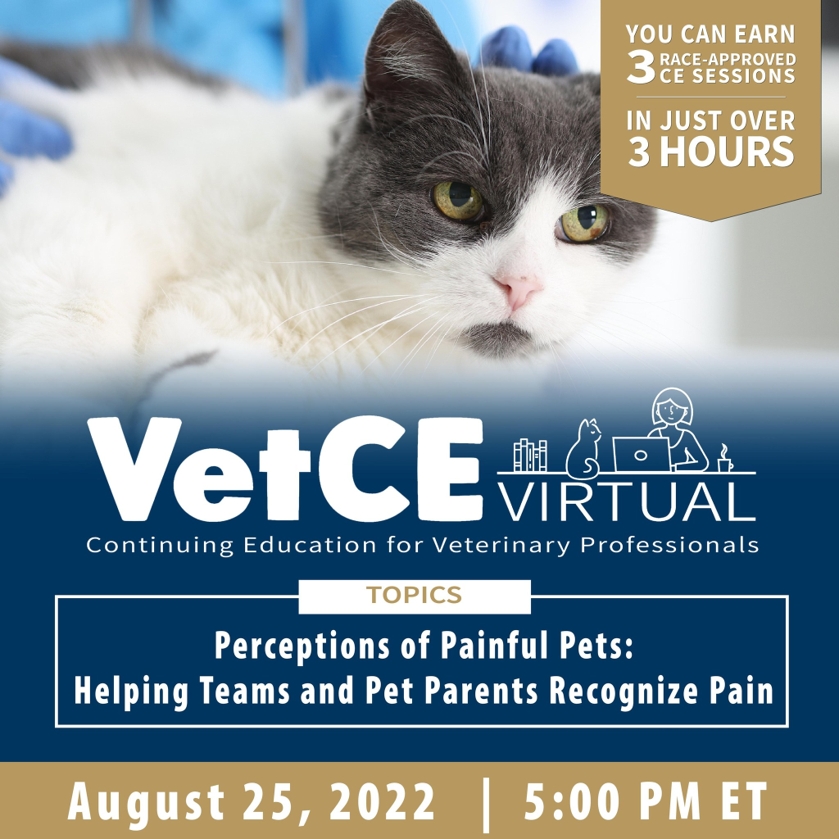 Veterinary professionals looking to refine their pain management skills can sign up for an upcoming live virtual continuing education (CE) event.
Featuring three consecutive RACE-approved, one-hour presentations, "Perceptions of Painful Pets: Helping Teams and Pet Parents Recognize Pain" is part of the VetCE Virtual series of micro-conferences. The event will take place August 25, beginning at 5 p.m. ET.
The unique featured course sessions are:
"Me-OUCH! The physiology of OA in Cats," presented by Kristen Cooley, BA, CVT, VTS;
"Phytocannabinoids and pain management: A practical guide to understanding the basics of cannabinoid medicine and its clinical applications," presented by Josh Sosnow, DVM; and
"I feel your pain: How empathic communication and the human perception of pain influence our animal patients," presented by Joanna Robson, DVM, CVSMT, CMP, CVA, CSFT, CIT, eCPR, VHSC, CMT-MTI.
VetCE Virtual is produced by Veterinary Practice News and VetMedTeam, an online resource offering CE to veterinarians, credentialed veterinary technicians, and practice team members.
For those unable to attend the live event, the sessions will be available via VetMedTeam as VetCE On Demand RACE-approved self-study courses. Click here to see courses from previous VetCE Virtual events (listed under "VetCE On Demand"). All registrants for the live event will have access to the recordings following the presentation.
To register, click here. For more information, contact info@vetce.events.