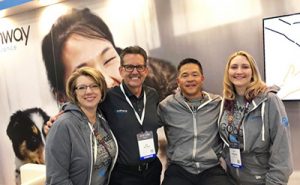 Following Pathway Vet Alliance's recent rebrand reveal at the 90th annual Western Veterinary Conference (WVC), the national veterinary management group announced it will donate $3,000 to three charities connected to causes important to the veterinary community.
Prior to the start of WVC, Pathway pledged to donate $5 to charity for each visitor's conference badge scanned at the company's booth.
The total amount donated by Pathway will be divided equally and presented to the American Humane Association, the American Veterinary Medical Foundation's Veterinary Care Charitable Fund, and the American Foundation for Suicide Prevention.
"We're deeply touched by the warm reception we received at this year's conference and are thankful to those who stopped by our booth to help us contribute these funds to three amazing charities," said Stephen Hadley, DVM, CEO of Pathway Vet Alliance. "Our new brand identity and reaffirmed mission to be change agents for good really resonated with the crowd at WVC. We have an exciting year ahead of us and are excited to build on this success."
Last month, Pathway unveiled its new rebrand to Pathway Vet Alliance and adopted a new logo, color palette, typeface, website, and streamlined brand system. The new extended company name and look helps differentiate Pathway within the veterinary industry and better conveys the company's unique people-focused culture, the company stated.
The revamped brand identity fortifies Pathway's position as a "change agent for good" in the veterinary industry and elevates the company's focus on providing personalized management support and tooling to veterinary practices across the U.S., the company added.
In 2017, Pathway grew by nearly 100 hospitals and more than 800 employees, for a total workforce of 2,500 and 125 locations.
Earlier this year, the company relocated its support team to downtown Austin, Texas.