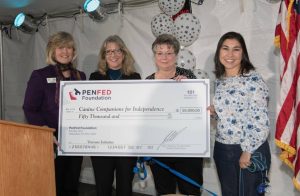 PenFed Foundation has donated $50,000 to support the launch of Canine Companions for Independence's post-traumatic stress disorder (PTSD) program.
The money is expected to help change the lives of veterans with PTSD through assistance dogs.
"We are proud to work with Canine Companions and want to do more to help the increasing number of wounded veterans who can benefit from an assistance dog," said James Schenck, chief executive office of PenFed Foundation.
"Wounded veterans often face difficult transitions back to civilian life. An assistance dog can provide the help they need to regain independence, pride, and hope. These dogs are changing lives."
As part of the PTSD program, the assistance dogs are trained to create physical space in public for the handler, turn on lights, and interrupt flashbacks, anxiety episodes, and nightmares. In addition, the dogs help adults with physical disabilities by performing daily tasks and are trained for specific needs.
PenFed Foundation has also provided an additional $60,000 in funding to Canine Companions in the last year.
"We are grateful for PenFed's continued supported and honored to support even more of our nation's heroes with service dogs to help mitigate the symptoms of PTSD," said Paige Mazzoni, chief executive officer of Canine Companions for Independence.
"Canine Companions is committed to helping those who have sacrificed so much by matching them with service dogs trained in over 40 commands. With our recent program expansion, we can help more veterans across the nation."