Many veterinarians say they don't recommend pet insurance to their clients for a variety of reasons:
• It is an inappropriate or unproductive activity.
• A fear of powerful insurance companies dictating veterinary practice in the future.
• Concerns that pet insurance increases paperwork.
• A need for a better understanding of plans.
We asked three colleagues in leadership positions at pet insurance companies to address these concerns and a few others.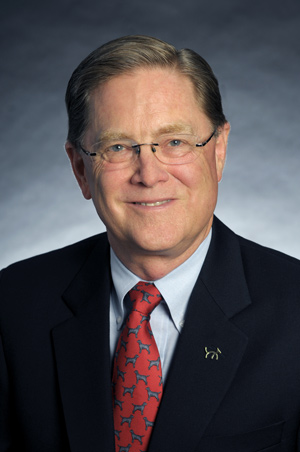 Bill Craig, DVM, chief medical and underwriting director at PurinaCare Pet Health Insurance.
• Bill Craig, DVM, is chief medical and underwriting director at PurinaCare Pet Health Insurance in San Antonio. He is responsible for all medical-related aspects of the plan, ranging from designing policies to reviewing applications for medical issues to overseeing claims processing.
• Jack Stephens, DVM, is president of Pets Best Insurance in Boise, Idaho. He invented the concept of pet health insurance in the U.S., founding Veterinary Pet Insurance in 1980 and Pets Best in 2005.
• Carol McConnell, DVM, MBA, is vice president and chief veterinary medical officer of Veterinary Pet Insurance in Brea, Calif. She has been with VPI for more than six years and is responsible for the company's veterinary relations, product development and medical review of applications.
Here are their responses to Veterinary Practice News readers' main objections to promoting pet insurance, as well as a few common questions.
Recommending insurance is inappropriate for vets
"Nothing that helps clients and pets receive veterinary care is inappropriate," Dr. Stephens counters. "Just as nutritional counseling or providing products for clients is good for the pet, advising about pet health insurance is good and very well may save the life of the patient.
"We know that insured pets receive more comprehensive care since the insurance is paying the majority of the cost. And we know that pet owners respond to symptoms much faster when the pet is insured, providing the veterinarian with a better opportunity to diagnose and treat an illness earlier."
"Surveys show that pet owners are interested in learning about pet insurance," Dr. Craig says. "In the January 2008 Buying Preferences Study by Brakke Consulting, 20 percent of pet owners indicated that they would purchase pet health insurance if their veterinarian recommended it.
"Moreover, 41 percent of Type A clients—i.e. highly involved pet owners—would be interested in the idea. So pet owners think it is appropriate that their veterinarian recommend pet insurance."
"According to a 2008 study," Dr. McConnell notes, "consumer expenditures [in constant dollars, adjusted for inflation] on veterinary services have essentially doubled between the years 1980 and 2005.
"Our profession is quickly outstripping the average pet owner's ability to pay for veterinary services. Electing to discuss third-party financial options with clients is an individual choice in the exam room," she says.
"However, market research has shown that our clients look to us to outline their options, whether those options are medical or financial."
Promoting pet insurance is an unproductive activity
"The problem is many clients cannot pay for unplanned veterinary care from their discretionary income," Craig says. "Pet insurance provides the financial help needed to afford excellent medical and surgical care. So I think suggesting pet insurance is a very productive activity for both the pet owner and the practitioner.
"In a survey conducted between 2005 and 2008, the National Commission on Veterinary Economic Issues [NCVEI.org] found that 95 percent of practices that responded indicated that they had, in the past, recommended a less effective medical solution because the owner could not afford the most effective—read: more expensive—treatment," Craig says.
"In addition, 95 percent of respondents had euthanized sick or injured pets because the owner could not afford treatment. Economic euthanasia is not an acceptable medical solution for our patients. Pet health insurance provides clients with the opportunity to move from 'How much will this cost?' to 'Please do what is best for my pet.' "
Stephens says that pet insurance plans with an 80 percent reimbursement model—paying 80 percent of the cost of care—are highly productive "because they expand the client's financial ability by nearly five times."
He explains: "Take, for example, a client who could afford to spend $1,000 for veterinary care. If that pet is insured with an 80 percent plan, the client can now afford nearly $5,000 with a $100 deductible and still only be out of pocket the affordable $1,000.
"I believe that helping clients know about pet insurance is a highly productive activity. If nothing else, recommending pet health insurance when the pet is healthy places the burden for being financially prepared for an unexpected accident or illness squarely with the client and not the hospital when a costly event occurs."
McConnell notes that research shows that clients with pet insurance scheduled 40 percent more veterinary visits on average, had 41 percent higher stop-treatment levels and spent twice as much on veterinary care over the pet's lifetime than clients of comparable age, education, socioeconomic level and bond with their pet.
"This research complements the plethora of anecdotal evidence from veterinarians and office managers that clients with pet insurance are more likely to say 'yes' to treatment plan recommendations in the exam room," she says.
Veterinarians fear that powerful insurance firms will dictate veterinary practice
Craig notes that pet health insurance is indemnity insurance.
"This means the insurance company indemnifies or reimburses the policyholder for losses that occur during the term of the policy. The contract is between the policyholder—the pet owner—and the insurance company. The veterinarian is not a party to the contract, as opposed to M.D.s, who are in managed care human health insurance.
"The pet health insurance company does not dictate which provider the pet owner may use, does not dictate what treatment the veterinarian and pet owner may select and does not dictate how much the veterinarian may charge for services," Craig says.
"Remember, managed care can only exist if veterinarians agree through a formal contract to be part of a provider network. The veterinary profession, therefore, has 100 percent control over the potential establishment of managed care programs for pets in the United States."
Stephens agrees: "As long as veterinarians do not join networks that dictate price, treatment or client choice, managed care cannot become established in our profession. It is that simple: Do not support or join plans that are anything but reimbursement for care provided."
"Managed care evolved in the human health insurance arena," McConnell explains, "because employers, labor unions and our state and federal governments each participated in various degrees of either paying human health insurance premiums for their employees, members or constituents, or directly paying health care costs.
"Since these large, powerful groups had a vested interest in the cost of medical care, they worked diligently with human group health insurance companies to control costs. That control is what we call managed care today.
"The likelihood of employers, labor unions, the government or similarly large entities with comparable market power stepping in to pay pet insurance premiums or directly cover health care costs for pets is extremely low," McConnell says.
"In addition, even if this were to happen, veterinarians still hold the key by refusing network agreements, discount clubs or contracts in which they lose control of pricing their services."
Pet insurance increases paperwork
"The paperwork involved with pet health insurance is minimal," Craig says. "The insurance contract is between the insurance company and the pet owner. The veterinarian is simply the provider of medical or surgical services and is not involved in the claims process.
"Pet owners are expected to pay their bills at the time of service, in accordance with the clinic's usual billing practices, so practitioners do not have to wait for the claim to be processed before they are paid.
"Most companies' claim forms are very simple one-page documents requiring only the name of the clinic and the diagnosis, or the presenting complaint if a diagnosis is not available.
"Filing the claim is the pet owner's responsibility," Craig notes. "Many clinics willingly assist the client by providing the necessary claim information as a value-added customer service, and the amount of time required is minimal."
Stephens agrees: "In almost all claims filing there is no more paperwork than veterinarians provide now with a receipt.
"However, there is an exception when claims are unclear or very close to when the pet owner enrolled. In such cases a copy of the medical record may be requested. I believe this is minimal activity when the client has five times the spending power for treating their pet."
"The responsibility to submit claims paperwork and supportive documentation lies with your client," McConnell notes. "Many veterinary hospitals, however, are more than willing to assist with completing claim forms or faxing medical records because they view it as a value-added service that helps bond clients to their practice."
A better understanding of plans is needed
"This is often a valid complaint and historically has been the fault of the insurance companies," Craig says. "The good news is that this situation has changed significantly in the past few years as more veterinary trade publications have published articles about pet health insurance, including specific details and benefits.
"Veterinary organizations such as NCVEI and AVMA/GHLIT have taken an active role in providing educational materials to veterinarians. Insurance companies have provided seminars to students at veterinary colleges. Additionally, there has been a recent move to make insurance plans simpler, more comprehensive and easier to understand," Craig says.
Stephens says that as with any new technology, service or drug, those who take the time to learn more and understand the value to the client and the patient will be the ones to reap the benefits.
"It is a 'must' that the staff understands the benefits for clients, patients and the practice to make pet insurance work," he says. "Today, a short 40-minute online live presentation is available for staff to learn and ask questions so they are grounded with the basics of pet insurance and what is and is not covered.
"Encourage clients to call their insurance company's service department with in-depth questions," he suggests, "since there are so many options and differences available."
McConnell notes that several online resources are available to veterinarians and staff members to learn about pet insurance plans. "One is a comprehensive interactive online course hosted by VetMedTeam titled 'Say Yes! to Pet Insurance,'" McConnell says. Registration is free and participants can receive RACE credit units.
"Additionally, some pet insurance companies have veterinary technician educators who can visit your hospital to educate your staff."
Clients are often confused by the exclusion of genetic, hereditary or congenital conditions.
"Insurance is based on the premise of risk-pooling and the likelihood or unlikelihood of a random event," McConnell explains.
"If an event occurs before an insurance policy is in place, the chance of it happening is no longer random; it is 100 percent. This is why insurance companies do not cover pre-existing conditions.
"Unfortunately, congenital conditions fall in this category; they have already occurred. Along the same lines, hereditary conditions may not be pre-existing or self-evident, but due to inbreeding, line-breeding or a general lack of genetic diversity, the likelihood of certain diseases in certain breeds is statistically higher.
"This means the 'random event' is no longer random. Pet insurance companies then need to either limit their coverage of hereditary diseases or charge higher premiums to cover the higher incident rate of disease in certain breeds," McConnell says.
Craig says many companies reduce their risk exposure by excluding all hereditary conditions, thus allowing a lower premium.
"Some insurance companies will cover hereditary conditions that are not evident when the policy is issued, but this additional risk may require a higher premium," Craig says. "Prospective policyholders should inquire about coverage of hereditary conditions before buying a policy."
Stephens notes that insurance companies require actuarial data that help them set appropriate rates.
"Hereditary conditions have been harder to determine in setting rates and in the risk-taking when some breeds have such high incidence rates," he says. "More and more companies are now providing hereditary benefits, but for some breeds the cost may be unattractive due to the higher risk.
"As pet health insurance obtains the data, you will see more and more options available that will cover hereditary conditions."
Dr. Phil Zeltzman is a mobile, board-certified surgeon in Allentown, Pa. His website is DrPhilZeltzman.com.