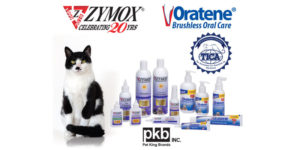 Pet King Brands' ZYMOX Dermatology and Oratene Brushless Oral Care are the cat's meow, according to The International Cat Association (TICA).
The group has just bestowed its highest level of endorsement, the Seal of Excellence, on two of the company's product lines.
The news comes as Pet King Brands celebrates its 22nd year in business.
"Pet King Brands is proud to earn TICA's and cat fanciers' trust of our ZYMOX and Oratene solutions for felines struggling with problematic ears, skin, or mouths," says company founder and president, Pamela K. Bosco.
"TICA's endorsement will help cat fanciers around the world become more aware of these gentle, soothing products that first do no harm, and help all animals live healthier, happier lives."
Founded in 1998, Pet King Brands uses a patented LP3 enzyme system in all its solutions, ranging from ear products to skin topicals to shampoo and conditioning rinse, and brushless oral care products.