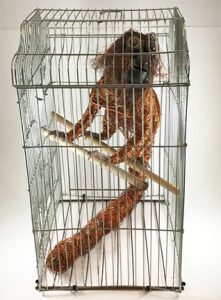 The Art Museum of Greater Lafayette in Indiana is hosting an art exhibit titled "Caged: The Illegal Pet Trade." The exhibit, by Justin Ladoux, hopes to shed light on this important but often neglected subject.
"Animal health and well-being is our specialty, and everyone in the college of veterinary medicine encourages responsible ownership," said Willie Reed, DVM, Ph.D., dean of the Purdue University College of Veterinary Medicine. "The illegal pet trade is a cruel, inhumane business, and this outstanding art exhibit is an excellent means of educating people about this issue."
Educating the public
First of all, the internet fuels exotic ownership by making it easier for people to shop for various wildlife species, said Lori Corriveau, DVM, pet wellness veterinarian in the college's Small Animal Community Practice.
"Many people are unaware of where exotic pets are from and how the pet trade affects world populations," she said. "Some exotic pets are bred from captivity, and some are taken directly from the wild. Sadly, many of those taken from the wild will die in transit."
Further, many owners don't have the knowledge, money, or ability to adequately replicate a natural habitat for an exotic pet in their home, said Dr. Corriveau. However, even when proper care is in place, sometimes finding that care is difficult.
"Many of the problems I see with exotics in our Small Animal Community Practice at the Veterinary Teaching Hospital relate to poor or inappropriate husbandry. It is heartbreaking whenever these beautiful creatures are living in an unsuitable environment," she said. "Therefore, education is a vital part of my job. That education before purchase helps owners find the appropriate pet and give them the knowledge to be a responsible owner."
Corriveau said potential exotic pet owners should be sure they have what it takes properly care for that animal. In addition, she said that rescuing an exotic animal from a reputable organization is an option.
"Caged: The Illegal Pet Trade" is co-sponsored by the Purdue University College of Veterinary Medicine, the City of Lafayette, and the Columbian Park Zoo. The Art Museum of Greater Lafayette at 102 S. 10th St., is open daily from 11 a.m. to 4 p.m. Admission is free. Exhibit is open through Nov. 26.