Suggested Veterinary Products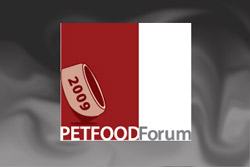 Petfood Industry magazine is looking for veterinarians and other pet food industry professionals to speak at its annual Petfood Forum, to be held April 20-22 in Rosemont, Ill.
The forum, geared for pet food industry executives worldwide, is accepting submissions of abstracts for noncommercial oral and poster presentations on the topics of nutrition and ingredients; packaging; safety and regulatory issues; processing and production subjects; market data, trends and predictions; company profiles; and new products.
Click here for details, call 815-966-5544 or e-mail tphillips@wattnet.net.
Abstracts must be received by Sept. 30.
Petfood Industry magazine is published by Watt Publishing Co., which focuses on the agrifood and woodworking industries.