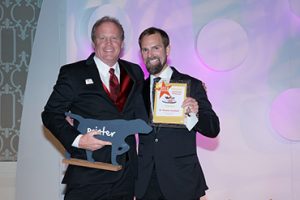 Petplan pet insurance hosted its annual Veterinary Excellence Awards dinner early this month, naming six veterinary professionals and one exemplary pet parent 2018's winners.
The awards event was held in tandem with the Veterinary Meeting & Expo in Orlando, Fla.
This year's winners:
Practice of the Year: Colorado State University Veterinary Teaching Hospital, Fort Collins, Colo.
Veterinarian of the Year: Thomas Newland, DVM, Adobe Animal Hospital, Scottsdale, Ariz.
Practice Manager of the Year: Amanda Inman, Pet Care Clinic of Kokomo, Inc., Kokomo, Ind.
Veterinary Technician of the Year: Jamie Rauscher, Animal Hospital of Towne Lake, Woodstock, Ga.
Receptionist of the Year: Rebecca May, Town N' Country Animal Hospital, Burlington, N.C.
Pet Parent of the Year: Danny Shelton, Cleveland Browns Defensive Lineman and Animal Health Advocate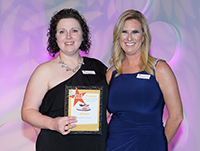 Nominees in each category were submitted by both professional peers and clients; then, each completed a rigorous application process to accept their candidacy and advance to the semifinalist and finalist rounds. The judging panel included veterinary professionals, several of whom are past award winners.
"I'd like to extend a warm congratulations to each of this year's winners," said Natasha Ashton, Petplan co-founder and co-CEO. "It is an honor for all of us to witness and celebrate the work they do, whether it is saving a life in the middle of the night, soothing an emotional pet parent, supporting their team's success or driving education and innovation in veterinary medicine. These are the people on the front lines doing the hands-on work to help our beloved pets live longer, healthier lives. Not only do they each deserve an award, but they all also deserve a heartfelt 'thank you' as well."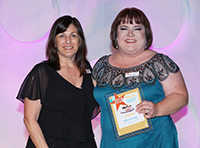 Now in its seventh year, Petplan's Veterinary Excellence Awards celebrate America's veterinary professionals who go above and beyond to provide pets with exceptional care and clients with outstanding customer service. Each year, Petplan gives each Veterinary Excellence Awards winner a $1,000 prize, plus a $1,000 donation to their animal charity of choice. This year, Petplan doubled the donations, for a total of $12,000 distributed to worthy nonprofits.
For more information about the 2018 winners or to nominate a pet health hero for the 2019 awards, visit petplan.com/vet-awards.