Suggested Veterinary Products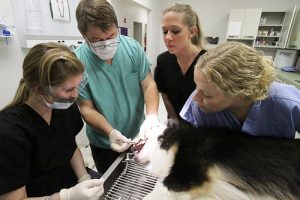 Petplan pet insurance will kick off National Veterinary Technician Week on Oct. 16-22 with a series of prizes to reward hardworking veterinary staff.
"We've been committed to supporting veterinary professionals since our founding, and we believe each member of the veterinary practice deserves their day in the sun," said Natasha Ashton, Petplan co-founder and co-CEO.
This year's awards from Petplan
Annual membership to the National Association of Veterinary Technicians in America (NAVTA) for 25 entrants
All-expenses-paid scholarship to Dr. Andy Roark's 2018 Uncharted Veterinary Conference for one entrant
Full conference registration scholarship to the 2018 Veterinary Meeting & Expo, with an exclusive invitation to Petplan's 2018 Veterinary Excellence Awards gala
Petplan is announcing the contest via email to practice staff in the U.S. and Canada. Prizes will be randomly awarded to entrants who visit Petplan's sign-up page and register for a chance to win.
"From managing anesthesia to assisting with diagnoses, veterinary technicians are among the most important members of our pets' professional health care team," said Ashton. "Unfortunately, they're not always recognized as such. We're proud to show everyone how much we value their contributions during National Veterinary Technician Week—and every week. We can't wait to present the winners with their prizes."
To enter the giveaway, visit gopetplan.com/form/vet-tech-appreciation-week from Oct. 16-22.