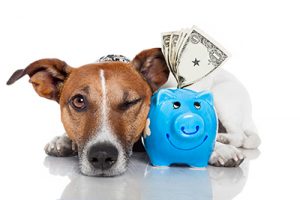 Petplan pet insurance data shows that one in three pets will need emergency veterinary care each year, and with average costs in the thousands of dollars (see "Petplan's top 10 most common claims and costs" below), pet insurance can be more beneficial than a savings account, which may not have enough money to cover the most common ailments.
Some pet owners may be aware of pet insurance, but they may not understand how it can help keep pets healthy and budgets intact. Written specifically to help pet owners understand the growing pet insurance industry, Petplan's Pet Insurance 101 guide is available now at insurance.gopetplan.com/pet-insurance-101.
The free guide walks pet owners through a pet insurance personality quiz and a checklist to determine what kind of pet coverage best suits their pets' needs. Facts, figures, and FAQs provide benchmarks to help consumers make the best choice for their unique situation.
"About 95 percent of pet parents consider their pets to be part of the family,"* said Keith Guse, Petplan's director of content. "Even though two million cats and dogs are protected by pet insurance in North America, it's estimated that 99 percent of pets are still uninsured.** We created this guide to educate pet parents on the benefits of pet insurance and how it works."
The American Pet Products Association estimates that pet owners in the U.S. will spend more than $72 billion this year on pet industry expenditures, with an estimated $17 billion on veterinary care.
"Advances in veterinary medicine mean pets have more treatment options than ever, but the cost of pet healthcare can rival that of humans," said Petplan staff veterinarian Jennifer Maniet, DVM. "With so many excellent treatment options to help sick and injured pets return to healthy, happy lives, pet insurance can provide the financial freedom to make pet health decisions without worrying about the cost. Petplan's Pet Insurance 101 guide gives pet parents the tools to make the best decision for their family."
To download Pet Insurance 101 guide, click here.
*According to a 2016 survey by Harris Poll.
**According to the 2018 North American Pet Health Insurance Association yearly report.
Petplan's top 10 most common claims and costs
Non-specific GI disease (vomiting/diarrhea) – $1,016

Cancer – $2,321

Unspecified lameness – $1,084

Allergies – $740

periodontal disease – $1,017

Cardiac disease – $1,351

Cruciate injuries – $3,583

Skin infections – $538

Foreign body ingestion – $2,091

Ear infections – $413