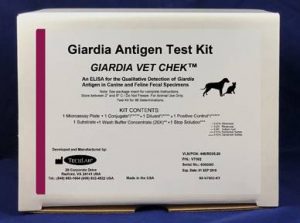 TechLab Inc., a developer and manufacturer of rapid noninvasive diagnostic tests for gastrointestinal diseases, announced that Phoenix Lab will be one of the first veterinary reference labs in the Pacific Northwest to offer Giardia Vet Chek test to customers.
"For more than 28 years, Phoenix Lab's mission has been to bring the best science and best service to our veterinary community in the Pacific Northwest region," said Faye Sturtevant, DVM, Ph.D. and CEO at Phoenix Lab. "We are excited to add TechLab to our menu of clinical veterinary testing, which aligns with our vision to partner with best-in-class companies as we expand nationally."
The Giardia Vet Chek test is an automatable enzyme immunoassay optimized for canine and feline fecal samples to aid in the diagnosis of giardiasis. The test is the first TechLab product to be manufactured under the company's USDA establishment license.