Suggested Veterinary Products
In the early '90s, Judy Morgan, DVM, walked into a continuing education course about veterinary orthopedic manipulation and immediately thought she'd made a mistake.
Many attendees were not veterinarians, but chiropractors. The opening lecture was about chiropractic adjustments. Dr. Morgan had signed up for the course because she had a colleague who did a lot of orthopedic surgery and she wanted to help with post-surgical rehabilitation. But as a traditional veterinarian, in conventional practice since 1984, she scoffed. This had to be quackery.
She would have left, without even hearing him out, but another side of her practical nature won out.
"I'd already paid for the course," says Morgan, who owns Clayton Veterinary Associates in Clayton, N.J. "So I stayed."
What she thought was a mistake turned out to be career-changing. When Morgan got home, she decided to try out the technique. Her mother's standard schnauzer had so much pain, she could no longer climb into the car. With her mother's blessing, she tried an adjustment and then led the dog into the garage.
"Not only did the dog jump into the car, but then she started jumping from the front to the back, over the seats, back and forth, like, 'Look! Look at me! I can do this!'" Morgan says. "Our jaws literally dropped. And I thought, 'Huh. I guess there is something to this."
After similar results the next day with a client's arthritic German shepherd, Morgan dived in full-bore. Acupuncture, food therapy, herbals, homeopathy, chiropractic manipulation; she wanted to understand all of it.
And so Morgan became holistic before holistic was cool. For more than a decade, her clinic has offered a full range of alternative treatments alongside conventional medicine. (Her practice has been so successful that Morgan recently opened a satellite, Churchtown Veterinary Associates, in Pennsville, N.J.)
"I do still have some clients who are totally traditional, who say, 'Forget that voodoo stuff, give me a pill,'" Morgan says. "And I have some who won't allow any sort of chemical or conventional medicine. But I would say most (clients) are integrated, and we pick and choose what is the best treatment.
"My ultimate goal is to take an animal who is in pain, or is having difficulty walking, and make it comfortable again. … And there is more than one way to get there."
Interest in Vet Medicine
Like many veterinarians of her generation—Morgan is 52—she didn't always see it that way.
She first set her sights on becoming a veterinarian when, as a horse-loving 12-year-old, she observed a family friend perform a neurectomy on a horse that was in severe pain.
"I thought that was the coolest thing I had ever seen," Morgan says.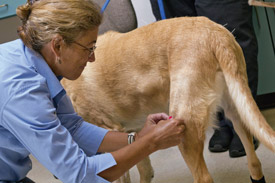 Dr. Judy Morgan performs acupuncture on a canine patient.
Morgan went to Rutgers for undergraduate work and then graduated from the University of Illinois College of Veterinary Medicine. Even though she had sold her horse to pay for school, she always planned on going into equine medicine.
After an externship with an equine ambulatory practice one brutal New Jersey winter, however, she re-thought her plan. After graduation, she took a job at a small animal clinic. By '93, she was running the Clayton clinic, and was soon exploring integrative medicine.
The conversion to a holistic clinic was not always smooth. Morgan eventually had to buy out her partner, who was committed to a conventional practice. As recently as two years ago, only two applicants responded when she sought a veterinarian to join her integrative practice.
But Morgan never looked back. The more she studied other disciplines, the more options she found for her patients.
In 2000, for instance, Morgan began studying acupuncture because some dogs were in so much pain they couldn't endure the chiropractic treatment that might bring long-lasting relief. She soon found that many animals with arthritis or other back pain responded to acupuncture alone, and that it was also useful for internal medical issues, such as diabetes, endocrine problems and kidney failure.
Client Karen Quigley, of Sewell, N.J., is a believer. Quigley's dog Elwood, a charming mixed breed once named the ugliest dog in America, had been suffering seizures. After consulting several vets, the consensus was to give him phenobarbital, a treatment Quigley opposed. So her veterinarian suggested consulting Morgan. Through acupuncture treatments and a follow-up regimen of herbs and a natural diet, Elwood has been virtually seizure-free for more than a year, Quigley says.
Expanding
Clients like Quigley are becoming more the norm, Morgan believes—and some veterinarians are working to accommodate them.
When Morgan needed to hire a veterinarian this year, instead of getting just two applicants, she got more than 30—more than half already accomplished in some form of Chinese medicine or homeopathy. And many clinics that have long referred to her for acupuncture or other holistic treatments are now sending their own staff members for such training.
But Morgan warns that like any other form of medicine, veterinarians can't simply dabble in these techniques.
"It's amazing how many doctors I talk to, or hear of, who go through the training and then don't use it," she says. "They're in big traditional practices where they might be the one doctor out of eight who wants to try acupuncture, but they're surrounded by traditionalists. If everybody in the building isn't speaking the same language, you won't get to do it."
For veterinarians trying to introduce new treatment methods into their traditional practice, she suggests a tactic that worked in her clinic. When an associate veterinarian was just beginning acupuncture study, Morgan introduced "Free Acupuncture Fridays." Her staff would call clients who had never had acupuncture for their animals and offer a free treatment. Virtually every client said yes.
So each Friday, after the clinic closed the new associate would practice on three or four cases, with Morgan by her side. And many of those clients soon returned—the next time, as paying customers.
For those who have the interest but no training, Morgan suggests starting slow to see where it might fit into their practices.
"What I would say to people is if you are not sure you're willing to commit, go to one of the national conferences, take a wet lab, or sit in on a couple of lectures," Morgan says. "Open up your mind to it, and sometimes you'll be amazed at what you see."