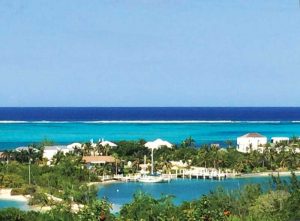 In 1982, four scuba diving-loving colleagues came up with the crazy idea of setting up a veterinary practice on the beautiful Caribbean island of Turks and Caicos. To that end, they created 52 shares that would be available to other colleagues.
Each partner would spend a two-week "tour" on Providenciales (insiders call it "Provo"), working every other year at what would become Turks and Caicos Veterinary Associates. They'd travel on their dime and work without pay. The clinic's income would pay the bills for both the practice and lodging. A beautiful, modern house with a stunning ocean view was eventually built for the partners, their family, and their friends to enjoy.
The practice is open in the morning on Mondays, Wednesdays, Thursdays, and Saturdays. The rest of the time, unless there is a (rare) emergency, practitioners can enjoy the beautiful island, its turquoise waters, and white sandy beaches. They also can enjoy snorkeling, scuba diving, horseback riding, amazing restaurants, and day trips to the archipelago's other islands. There are more than 100 islands, with only a few large ones. Other activities include whale watching, kitesurfing, fishing, and golfing.
The partners were inspired by another practice created with the same philosophy in the Cayman Islands. Sadly, the government shut it down, so it is entirely possible the clinic in Turks and Caicos is the only one of its kind in the world.
Practicing, island style
The practice offers medical, surgical, and dental care mostly for cats and dogs, and occasionally for exotic patients. There are funny stories floating around, such as the colleague who repaired a torn ACL on a goat. Partners with a desire to serve the community may choose to volunteer to perform spays and neuters at the local shelter, but it is certainly not a requirement.
In Provo, practicing veterinary medicine occurs at a different pace. In other words, relax, you're on island time! Clients include residents of the island, as well as a large community of expats from all walks of life. They are extremely friendly and thankful for the service offered to them.
Some of the patients include "potcakes," family-owned or rescued. The name of this very cute local mid-size dog breed comes from the "caked" remnants of overcooked food (often rice and stews) at the bottom of a pan the locals use to feed to their dogs.
Veterinary technician Peggy has been the anchor of the practice since the 1990s. She explains that most partners are from the U.S. and Canada, along with a few colleagues from Norway and Austria.
"Working with a new colleague every other week is challenging, but fascinating, because I learn several ways to treat the same condition," she explains. "Over the years, I've seen their kids grow up and blossom into teenagers, then adults."
"Some members leave the practice as they retire, and they are replaced with younger colleagues," Peggy explains. Melinda, the clinic's other employee, helps out in many ways, mostly with the administrative aspects.
Importing medications is costly because of shipping fees. When medications and supplies are needed, Peggy places an order with the next colleague in line, who brings them in their luggage. The practice then refunds the cost.
Peggy's story is a love story. She visited Turks in the 1990s with her boss, who was an early partner. Peggy fell in love with the island and after a few tours, she decided to stay there. Her role is now critical. She is a technician, receptionist, anesthesia person, dental technician, laboratory manager, X-ray technician, and expert tour operator.
The clinic has helped countless animals who would have otherwise not received the veterinary care they needed. Turks and Caicos Veterinary Associates is a slice of paradise for the island's dogs and cats, and the partners who get to practice there.
Resources
turksandcaicostourism.com
Phil Zeltzman, DVM, DACVS, CVJ, Fear Free Certified is a board-certified veterinary surgeon and author. His traveling surgery practice takes him all over Eastern Pennsylvania and Western New Jersey. You can visit his websites at www.DrPhilZeltzman.com and www.VeterinariansInParadise.com.
Interested in becoming a partner of Turks and Caicos Veterinary Associates? Contact Dr. Paul Frederickson, personnel director, at pandj@alaska.net.