Suggested Veterinary Products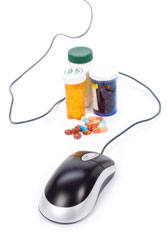 In recent years, online pet pharmacies have become a significant competitor in the veterinary products industry.
Internet-based retailers offer everything from prescription NSAIDs and heartworm medications to toothpaste and breath fresheners, representing a booming multimillion-dollar industry.
Although such pharmacies naturally evolved from the growing online sales culture, they have long been a source of controversy among veterinarians, who now compete for product sales with online giants with significant buying power.
And perhaps no area is more contentious than that of veterinary-exclusive nonprescription flea products that are diverted—in violation of manufacturers' stated sales policies—to online and other over-the-counter channels.
Paul Pion, DVM, Dipl. ACVIM, president and co-founder of the Veterinary Information Network in Davis, Calif., says the controversy speaks to a greater issue: the need for veterinarians to rethink the extent to which they rely on product sales.
"I think it was a big mistake that, for a long time, the recommendations of practice management consultants pushed veterinarians toward more product sales," he says. "I believe veterinarians should focus on the services they provide and, ultimately, they're losing money on inventory and the time lost for providing services."
Dr. Pion points to the human medical industry as an example of the slippery slope that practitioners face when their ties to the pharmaceutical industry become too strong.
"The more the public thinks we're selling them on products, the more we put our integrity at risk," he contends. "It is risky for clinics to be at all dependent on product income. The reality of today's world is that a large portion of product income for veterinary clinics is going away.
"Veterinarians need to recognize that the money that comes into this profession comes in through the front door of clinics," Pion adds.
"We need to focus on what we're uniquely qualified to do. It is time to recognize where the value is created in this profession and to stop letting the tail—the industry that supports the veterinary profession—wag the dog—the veterinary profession."
A New Model
Indeed, many veterinary practice management consultants today urge practitioners to rethink in-clinic product sales.
Christine Merle, DVM, a consultant with the Brakke Veterinary Practice Management Group and past president of the Association of Veterinary Practice Management Consultants & Advisors (AVPMCA), says that veterinarians should not be caught by surprise by shifting product sales.
Instead, she says, veterinarians need to constantly evaluate their practices and profit centers.
"What portion of your revenue comes from product sales today?" Dr. Merle asks. "How much of that revenue leads to profit in your practice? If it changes by 25 percent in the next year, what does that mean for your practice in terms of staff salaries, the ability to r
einvest in your practice, etc.? Where else might you focus within your practice to compensate for declines in this area?"
Peter Weinstein, DVM, of PAW Consulting in Irvine, Calif., and president-elect of AVPMCA, notes that the human health-care model has demonstrated that doctors can be quite successful without also acting as pharmacists.
"Veterinarians need to be focusing instead on relationship building, communication and education," he says.
Dr. Weinstein notes that certain clients will continue to prefer to pick up veterinary prescriptions and other products while they are at the veterinary clinic.
---
 It is risky for clinics to be at all dependent on product income.
—Paul Pion, DVM, Veterinary Information Network
---
"However, if they prefer to order it off the Internet, it shouldn't be a personal affront," he says.
There are two reasons clients purchase products online: price and convenience, Weinstein says.
"There's no reason veterinarians can't match the convenience," he says. "Drop the product in a priority mailing envelope and charge the client for shipping the way an online pharmacy would.
"The area veterinarians have trouble competing is on price," he adds. "And in that case, it becomes a question of communicating to the client that you're there to stand behind the product you sell if there's ever a problem.
That's part of the extra cost. Whereas if clients purchase from the Internet, they take a risk. Buyer beware."
For veterinarians looking to maintain a reasonable level of product sales, Merle says inventory control is vital.
"Minimize the product selection on your shelf, maintaining—especially from your high-priced products—only what you know you can sell," Merle says. "Be willing and able to special order or write a prescription. Clients want price, convenience and selection. As a small business, it is hard to compete in all categories for every product."
Thus, Merle says, veterinarians need to choose the categories of products in which they think they can compete—and set aside the categories in which they can't.
Louise Dunn, owner of Snowgoose Veterinary Management Consulting in Greensboro, N.C., and secretary of AVPMCA, says that while veterinarians can take steps to compete on price when it comes to product sales, they should also recognize that the net profit on veterinary services far surpasses that of products.
For example, the difference in margins between administering wellness blood tests and selling a box of heartworm preventive is notable, Dunn says.
"Veterinarians went to veterinary school and set up their clinics to diagnose, treat and maintain the wellness of pets," she says. "If they focus on these areas, fleeting profit centers will become less of an issue."
Dunn also recommends that veterinarians look at their service mixes to determine where they might add more value for their customers. For example, a practice that regularly has open kennels may consider adding a day-care element to its business.
Association Responses
For the most part, veterinary industry associations have not taken positions on manufacturers' sales policies or enforcement actions for nonprescription veterinary-exclusive products. But some have weighed in on proper veterinarian conduct when it comes to diversion.
"Companies in the animal health pharmaceutical industry make their own decisions regarding their sales policies, as well as their policies regarding product diversion, and AAHA takes no positions on whether those policies are appropriate," says John Albers, DVM, executive director of the American Animal Hospital Assn.
"AAHA believes that all veterinarians must follow the law with regard to ensuring that FDA-regulated products are sold only in the context of a valid veterinarian-client-patient relationship. AAHA also believes that veterinarians have an ethical duty to abide by whatever terms they agree to when purchasing a product."
Further, Dr. Albers says, AAHA believes that veterinarians should regard online pharmacies and catalog pharmacies as another form of competition.
"That means that practices should be sure that the products they offer are fairly and competitively priced relative to the value of the products and any professional advice or guidance that they provide along with the products," he says.
Meanwhile, the American Veterinary Medical Assn., in its Principles of Veterinary Medical Ethics statement, notes, "It is unethical for veterinarians to use or permit the use of their names, signatures or professional status in connection with the resale of ethical products in a manner which violates those directions or conditions specified by the manufacturer to ensure the safe and efficacious use of the product."
Ethical products, the AVMA says, are products for which the manufacturer has voluntarily limited sale to veterinarians.
Enforcement Actions
Efforts to curb diversion have largely focused on individual veterinarians found reselling product into retail and online channels.
For example, in 2006, the Kansas Board of Veterinary Examiners ordered a five-year suspension of a veterinarian's license to practice veterinary medicine in the state and a $10,000 fine.
In a notice to Kansas veterinarians, the board stated that the veterinarian was found to have sold prescription-only products into retail and Internet channels.
The veterinarian also "obtained ethical veterinary products from distributors and manufacturers and resold these ethical products, in violation of established marketing policies, to Internet sellers who then offer the ethical veterinary products at retail to various consumers."
While prescription flea products, such as Pfizer Animal Health's Revolution, can legally be sold only in the context of a valid veterinarian-client-patient relationship, manufacturers of nonprescription flea products must rely on their sales policies and enforcement actions to keep their product sales in the context of such relationships. For the most part, companies' stated sales policies closely mirror one another, calling for sales only where a valid veterinarian-client-patient relationship exists.
Two manufacturers—Summit VetPharm of Fort Lee, N.J., and Fort Dodge Animal Health of Overland Park, Kan.—are touting their proprietary systems for enforcing their veterinary-exclusive sales policies.
Albert Ahn, DVM, senior director of veterinary services for Summit VetPharm, says that popularly cited estimates indicate $200 million to $300 million in flea product sales moves through non-veterinary channels each year.
"The volume being diverted is quite large," he says.
Kelly Goss, director of public  relations and communications for Fort Dodge, agrees.
"Unfortunately, the prevalence of flea-and-tick control products in the OTC channel, especially Internet pharmacies, is one of the most significant business challenges practitioners face today," she says.
"As a nearly $1 billion industry in the United States, flea-and-tick control is the largest segment of the veterinary health market and as such, represents a significant amount of product found through OTC channels."
Tracking Successes
"Fort Dodge equipped ProMeris with the Track and Trace system because the company believes strongly in the role of the veterinarian as the primary source of information for a pet owner, and to ensure that role remains intact," she adds.
Goss says the system enables Fort Dodge to track the product from its point of manufacture, to the Fort Dodge warehouse where it's stored, to the distributor channel, and finally, to the veterinary practice that purchases it.
Veterinarians found in violation of the sales policy are no longer able to purchase it, Goss said.
In February, Summit VetPharm reported that it had tracked and recovered a batch of its veterinary-exclusive flea and tick product, Vectra 3D, after discovering it on an online sales channel. Summit VetPharm purchased some of the product through the site and then used its tracking system, Bloodhound, to trace the product to the California veterinarian who had purchased it.
Within six hours of legal notification to the veterinarian, the product was no longer available through the online channel, the company reports.