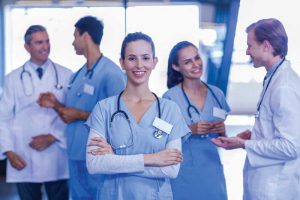 Your veterinary clients deserve and expect to be greeted and cared for by professional veterinary team members. In addition, veterinary teams expect to work with courteous, thoughtful, and professional coworkers.
Keeping professional behaviors in the forefront of your daily thoughts can lead to a cohesive team and satisfied clients. Let's review some of the main professional behaviors.
What is a professional?
First off, let's define what it means to be a "professional." There is the adjective form, meaning businesslike, conforming to the standards of skill, competence, or character normally expected of a properly qualified and experienced person in a work environment. When used as a noun, it means a worker in a paid occupation that usually requires a high degree of training or skill or competency.
Question: What is your vision of a professional? When I envision a professional I see someone who is:
Self-confident
Knowledgeable
Well-groomed
Respected by their peers
Courteous
Defers gossip
Goal-oriented
Willing to admit their mistakes
How does anyone do all that, all the time? It is a conscious choice a person makes every day, in every moment. A professional is constantly aware of their surroundings, clued into other people, and committed to creating a positive, professional attitude.
Earning respect
Professionals are respected by their peers. They make a difference by taking calculated risks, increasing their knowledge, belonging to professional organizations, and leading by example. Individuals who network expand their circle of influence and are proactive.
In his book, The 7 Habits of Highly Effective People, Stephen Covey writes, "There are some people who interpret 'proactive' to mean pushy, aggressive, or insensitive; but that isn't the case at all. Proactive people aren't pushy. They're smart, they're value-driven, they read reality, and they know what is needed."
Questions to ask yourself regarding respect:
1) How do I show respect to my peers?
2) Amongst my peers, who do I most respect? Why?
3) How do my peers show me respect?
4) What am I doing personally to enhance the veterinary profession?
Well-groomed
In Peggy Klaus's book, The Hard Truths about Soft Skills, she has an entire sub-chapter titled "Books are judged by their covers and the same is true for you." In her view, we are judged by our appearance. Anyone who tells you differently is lying. Every moment of every day, you have an opportunity to make a first impression. That impression is made by posture, eye contact, attire, personal hygiene, and a genuine smile.
You may be saying to yourself, "I wear scrubs all day long. That's the attire of a veterinary technician." I can't argue with that. However, clean scrubs are more professional than stained ones. Personal hygiene is determined every morning before you walk out your front door. Posture, smiling, and a firm handshake speak volumes when meeting a new client or sales representative.
Years ago, a percentage of technicians attending continuing educational classes wore scrubs to those events. Now, when I give presentations, the majority of attendees wear appropriate attire and nice accessories, are well-groomed, and look professional! They are making great first impressions.
Questions to ask yourself:
1) Do I look as professional as I feel?
2) What can I do to appear more professional?
3) What change do I intend to make today that will enhance my professional attitude?
Deferring gossip
Gossiping is unprofessional; choosing to redirect a conversation that is full of hearsay shows professionalism. How often have you caught yourself in the middle of a trashy conversation and you chose to redirect it? Good for you! Gossip—especially malicious conversation—is downright rude and unproductive.
Self-assessment of engaging in gossip:
1) How often do I engage in unproductive conversation about someone else?
2) What will I do when I find myself engaged in gossip?
3) How can I improve creating informative, constructive conversations?
Goal-oriented
People who are goal-oriented achieve more. Success looks different for everyone; however, individuals who write out goals, identify projects, create a weekly plan, and share their visions will manifest their dreams/goals. Effective self-management includes both big picture stuff and details. When you say you will do something, you are adding it to your goals, generating a timeline, and in the end, accomplishing what you set out to do.
Follow-through shows professionalism. Achieving goals, either personal or work-related, creates trust. When you hold yourself accountable and follow through on your own dreams, goals, and projects, you lead by example.
Covey has this to say about weekly planning and self-management, "It helps you to create balance in your life. It helps you rise above the limitations of daily planning and organize and schedule in the context of the week. And when a higher value conflicts with what you have planned, it empowers you to use your self-awareness and your conscience to maintain integrity to the principles and purposes you have determined are most important. Instead of using a road map, you're using a compass."
Questions to ask yourself about follow-through and goals:
1) What professional goals have I set for myself in 2019?
2) What goals did I complete in 2018?
3) How often do I set goals, projects, and dreams and achieve them?
4) How often have I let a coworker down by not following through on a project?
Admitting mistakes
Admitting when something has gone wrong is professional. Hey, we are all human. We all make mistakes! However, it shows great integrity and trustworthiness to admit your mistakes. When an error occurs, fess up, make corrections, apologize, readjust, and keep moving forward.
Within the veterinary medical profession, our mistakes can mean life or death for a patient. This is serious business and we are committed to accuracy when calculating doses. When an accident occurs—and it will—it is professional to bring the error to light. This is easier than it sounds and oftentimes, mistakes are not discovered until after the fact.
We all have stories of tragedy and mistakes. You may recall an instance when you were part of the problem; however, recall instances when you were part of the solution, too. Problem-solving is just as important as admitting your mistakes.
Reflect upon these questions:
1) What mistake have I confessed to or need to confess?
2) How do I deal with my mistakes?
3) How do I support coworkers when they have made a mistake?
Every person can be a professional. Within the veterinary community, you have ample opportunities to be self-confident, knowledgeable, well-groomed, respected by your peers, courteous, conscience of gossip, goal-oriented, and aware of your mistakes. Ponder the following as you think about the coming year:
1) What is stopping me from being a professional?
2) What future steps will I take to enhance my professional character?
As always, wishing you great success in your career as a
veterinary professional.
Resources
1) Covey S.R., The 7 Habits of Highly Effective People, Powerful Lessons In Personal Change, Free Press, 1989.
2) Klaus P, The Hard Truth About Soft Skills, Workplace Lessons Smart People Wished They Had Learned Sooner, HarperCollins Publishers, 2007.
3) Rose, Rebecca, How to Discuss Professionalism with Your Team, Veterinary Team Brief, 2012.
Rebecca Rose, CVT, founder and president of CATALYST Veterinary Practice Consultants, has 30 years of veterinary industry experience as a veterinary practice management consultant, a practice manager at two AAHA-accredited animal hospitals, and an award-winning veterinary technician. She is a NAVTA past president (2015-2017). Contact her at getCATALYST@CATALYSTVetPC.com or visit CATALYSTVetPC.com.