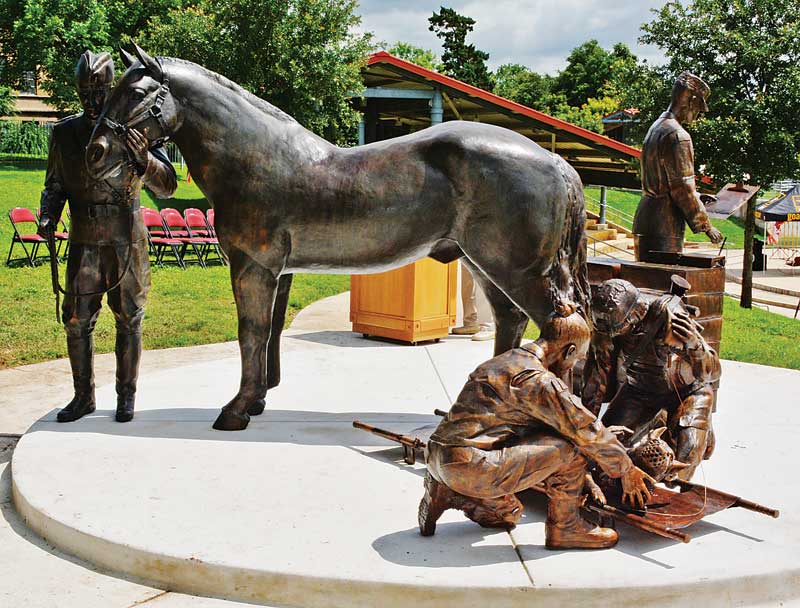 Looking ahead to possible US involvement in World War I, Congress and President Woodrow Wilson brought the National Defense Act of 1916 to fruition.
Besides helping an unprepared nation gain its war footing, the law paved the way for the establishment of the U.S. Army Veterinary Corps (USAVC).
When it comes to warfare, people tend to think of the high-tech equipment used today. However, 100 ago, animals, particularly horses and mules, played a crucial role in U.S. successes in WWI.
Today, animals, especially dogs, continue to fill an extremely important niche in our country's military.
A legacy of duty
During its 18-month involvement in WWI, the US lost 55,000 horses and mules, or more than 30 percent of the 165,000 equines used by the American Expeditionary Force, to sickness or injury.
Upon its entry into WWI, the US only had 58 veterinarians, but by the time the Allies claimed victory, the ranks of the USAVC had swelled to 2,313 officers and an estimated 16,000 to 18,000 enlisted support personnel, according to Nolan A. Watson, historian, Army Medical Department (AMEDD) Center of History and Heritage.
"The Veterinary Corps did not officially exist until June 1916," Watson said. "Before then, veterinarians in the Army were kind of in a quasi-contractor status. World War II is kind of the nexus; this is where things were intersecting."
The conflict between the Allied and Axis powers marked a last hurrah for horses as well as the first time the US Army began using dogs. At the time, the term military working dogs (MWDs) had not been coined, Watson said, so dogs were called canine corps or war dogs.
Today, maintaining the health of MWDs is a top priority of the USAVC.
Horses are still active in the military but relegated to ceremonial duties and, unfortunately, pulling coffin-weighted caissons at military funerals, and like MWDs, the health of the horses in these units fall under the auspices of 
the USAVC.
"We wear a lot of different hats as Army Veterinary Cops officers," said Capt. Jami Abbott, DVM, a Corps officer stationed at Edwards Air Force Base in California, "but it is all for the main goal of keeping our soldiers, sailors, airmen, and marines safe."
In 1980, the U.S. Army began its food safety and inspection program, which has become the primary mission of the Corps.
According to Capt. Abbott, most overseas deployments of Corps officers are food safety assignments.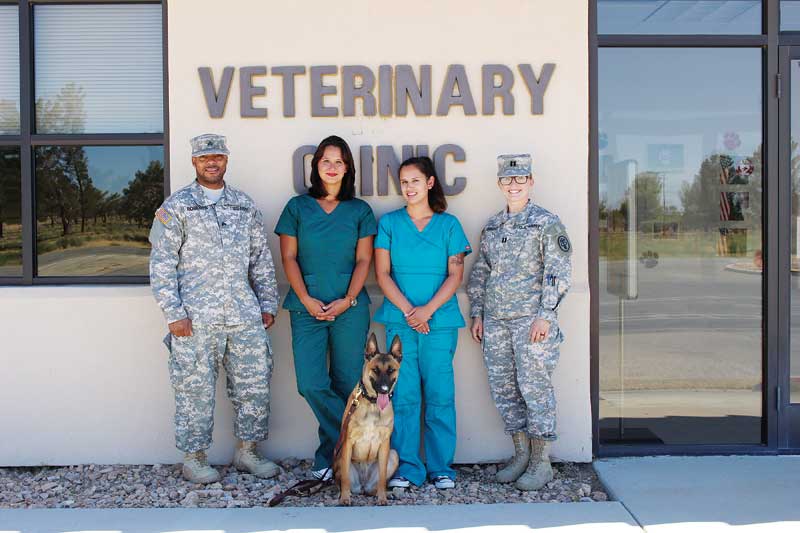 "If I were to go to a duty station that was deployable, and I went overseas, I would be responsible for doing food and water testing to make sure that what our soldiers were being served was safe," she said.
Besides food safety, the AVC oversees veterinary care for MWDs and military pets for the Army, Air Force, Navy, 
and Marines.
The AVC currently boasts around 780 active and Army Reserve members and includes veterinarians and warrant officers (technical experts in specialties such as food safety).
"Veterinary Service is of vital importance," Watson said. "They work on a lot of things that people don't think about … and take for granted."
For example, Army veterinarians are involved in research, which has wider public health implications beyond the military.
Watson points to new vaccines for rabies and other diseases that were developed by the Army in the 1920s and 30s.
"[USAVC] also works public health issues and protect the Army and looks out for the interests of Americans by working with other government agencies, making sure that we do have food safety," Watson said.
The Army's public health role was on display during a huge poultry disease outbreak in the 1970s that affected the US. Partnering with the USDA, the AVC quarantined birds and helped to successfully eradicate the disease, Watson said.
Also, in the 1970s, the Army, through a massive vaccination campaign, was instrumental in keeping a significant outbreak of Venezuelan encephalitis, an equine disease, from entering the US and spreading.
AVC officers also may be called on to pitch in during times of significant national emergencies, such as in 2005 when Hurricane Katrina ravaged the Gulf Coast.
Army veterinarians were part of Joint Task Force Katrina, said Watson, and helped ensure the food being supplied was inspected and safe for consumption; they also helped distribute food to displaced persons and worked with farmers and 
pet owners to provide veterinary care for their animals.
Mission minded
Abbott manages the Edwards Air Force Base Veterinary Treatment Facility, where she sees and treats the MWDs stationed there. She also treats 15 to 20 military pets (those owned by active and retired military members and their families stationed at Edwards or living nearby) every day. Abbott runs the Edwards' clinic with an Army-trained animal care specialist and three civilian employees—a clerk, operations assistant, and an animal health assistant.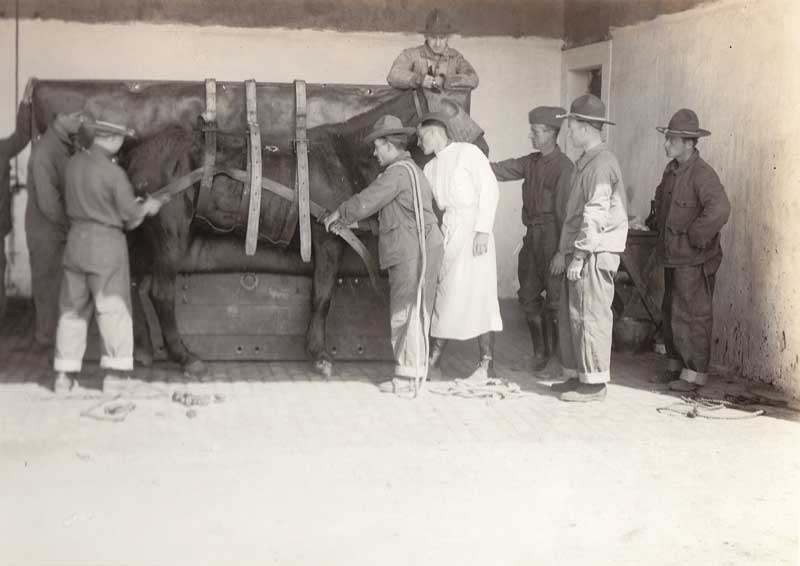 When not in-clinic, Abbott crisscrosses California a few times a year to perform commercial sanitation audits, where she personally inspects certified vendors that supply food not just to Edwards but also to Army, Air Force, and Navy bases across the country and even overseas.
In her audits, Abbott ensures vendors are properly testing their own products and have a proper water supply, and that their employees are working in sanitary conditions. She also checks end products and the living conditions of animals.
"We inspect fruits, vegetables, any type of food that may be consumed by any person in the Department of Defense, so fresh fruits and vegetables, processed fruits and vegetables, bottled water, bakeries, etc.," she said.
Looking for more
Straight out of Mississippi State University's College of Veterinary Medicine, with a DVM in hand, Abbott practiced for two years at the Fulton Veterinary Clinic in Fulton, Miss., which her dad—a DVM himself—owns.
"I decided I had a higher calling in my life, so I put in an application for the Corps," she said.
She was selected for a direct commission as a captain in the USAVC and went straight to Fort Sill, Okla.
Next, she went to Fort Sam Houston in San Antonio, home of AMEDD, where she spent three months completing her basic officer leadership course and a veterinary track program, after which, she reported to her first duty station—Edwards AFB.
Serving the scablands Abbott has seen some memorable cases in the Mojave Desert base she won't soon forget.
She recounted convincing a distraught 13-year-old girl that her guinea pig would be better off being euthanized because "it wasn't going to be in pain anymore."
The girl's dad was on an overseas deployment, her mom was pregnant, and she had another little sister.
It was "a pretty tough situation," Abbott said. "It was nice to be able to be there for those people."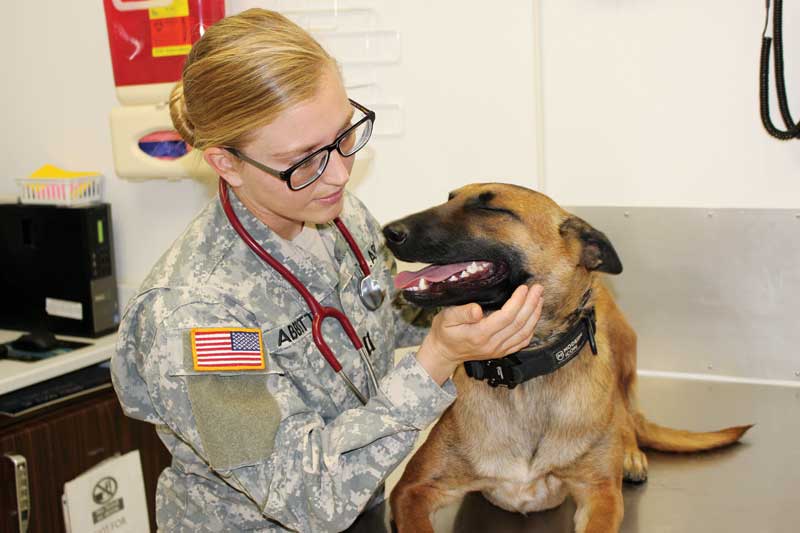 "Surgery-wise, I've seen some pretty interesting stuff that's been exciting," she said.
Unbeknownst to one dog's owner, a tumor on the animal's spleen had ruptured.
"We removed the spleen and took four liters of blood out of her abdomen," Abbott said.
The dog lived for a few months, but when the dog's cancer returned she had to be euthanized.
"We gave her a few more months of life," Abbott said.
Although Abbott has only been in the USAVC for a little more than two years, she has acquired experience that she would not have gained otherwise had she not traded her veterinarian scrubs for Army camouflage.
"I've expanded my knowledge base tremendously since I've been in, especially in the food safety side of things," she said.
Abbott left Edwards in August and is now at the Naval Support Activity Midsouth, in Millington, Tenn.
"It is interesting for us as Army Veterinary Corps because I'm at an Air Force base now and I'm going to a Navy base next," she said. "So, in my two years at two duty stations, I haven't been stationed at an Army base yet, even though I'm in the Army."
Abbott's hope is continue to be a part of the USAVC for several more years.
"If I leave active duty, I'd still go into the Army Reserve," she said. "I would be back doing my civilian job, but I would still have the opportunity to deploy as a Veterinary Corps officer."
"Once an Army officer, always an Army officer" rings true to her, she said