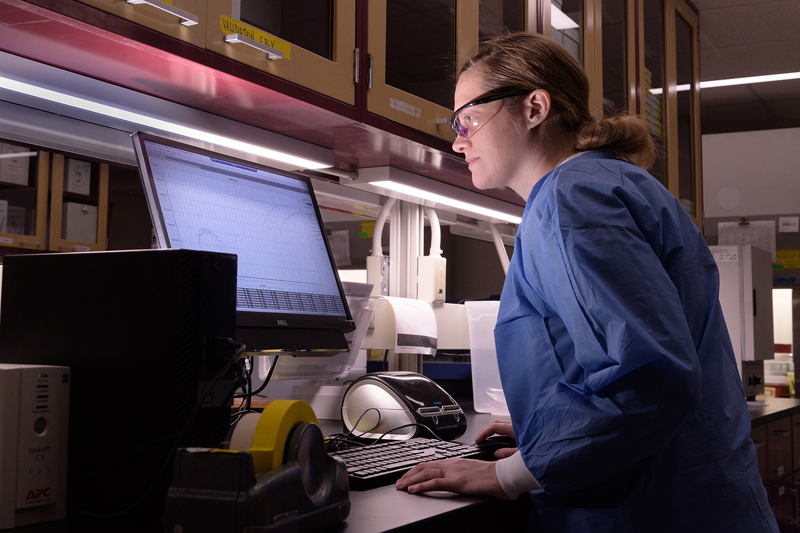 Indiana's testing capacity for human COVID-19 samples has been given a much-needed boost, thanks to a partnership between Purdue University and the state's health department.
The Indiana Animal Disease Diagnostic Laboratory (ADDL), located in Purdue's College of Veterinary Medicine, is working with Parkview Health, a nonprofit health organization, to start conducting COVID-19 tests for human patients.
"The College of Veterinary Medicine has a long history of providing services to protect animal and human health," says its dean, Willie Reed, DVM, PhD. "Providing COVID-19 testing is yet another way to support the citizens of Indiana during this unprecedented public health crisis."
The lab obtained clinical laboratory improvement amendments (CLIA) certification to conduct the human diagnostic testing, with Parkview agreeing to provide clinical oversight.
ADDL director Kenitra Hendrix, DVM, PhD, says the facility's experience providing infectious disease testing and immunity surveillance for animals across the state aided in its ability to assist with COVID-19 testing.
"ADDL is uniquely positioned to contribute skills and expertise in the detection of pathogens to the fight against COVID-19, while maintaining our diagnostic support of animal health and the safety of the food supply," she says.
Testing will be expanded in collaboration with other hospitals, with all samples sent directly from partner hospitals to ADDL.
Submitted samples are being tested using a polymerase chain reaction (PCR) method, which the lab regularly uses for animal specimens, Dr. Hendrix says. The ADDL team, working with state health authorities, adjusted its intake and sample processing procedures to gain the necessary certification to use the PCR testing capability on human specimens, she adds.
"Our team has worked diligently to prepare to perform this testing. It is rewarding to be able to take on this role in support of the citizens of our state."
Ideally, the lab says, test results will be available the same day they are received.
"We are grateful to Purdue and ADDL for helping to make testing more available for Hoosiers who are helping others during this pandemic," says Indiana's health commissioner, Kris Box, MD.