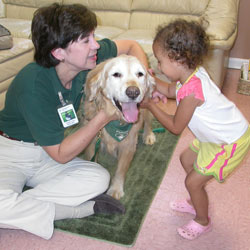 Nestlé Purina PetCare this week pledged more than $400,000 over the next two years to Delta Society, an organization that trains therapy animals and their handlers.
The pledge is the not-for-profit organization's largest grant ever.
"The significance of this major contribution by Purina cannot be overstated," said Lawrence Norvell, chief executive officer of Delta Society. "This partnership will have a profound impact throughout our society on the understanding and embracing of the important health benefits animals bring to our lives."
As part of its broader mission of advancing the role that animals play in people's daily lives, the group's Pet Partners program trains volunteers and their pets to visit hospitals, nursing homes, schools and rehabilitation centers.
Purina's donation will help the group expand the program, which currently involves more than 10,000 volunteer teams, Purina reported.
"We are thrilled to be able to help the Delta Society as it continues to demonstrate just how much animals can do for us," said Brenda Bax, brand director at Nestlé Purina PetCare. "Through its Pet Partners program, Delta Society shows that dogs and cats are unique creatures that can help benefit the health and well being of humans."