Suggested Veterinary Products
Ralph Brinster, VMD, Ph.D., has spent more than 50 years researching various aspects of the human and animal germ line—the cells that give rise to sperm and eggs—a lifetime of research that has turned into many scientific breakthroughs.
His first major achievement was developing a reliable in vitro culture system where mammalian eggs and embryos could be observed and experimented on outside the body.
"I thought that was something I had to be able do in order to proceed in studying germ cells and fertility and how the embryo develops," says Dr. Brinster, the Richard King Mellon Professor of Reproductive Physiology at the University of Pennsylvania School of Veterinary Medicine. "So that was a major accomplishment."
Researchers continue to use this system for mammalian egg and embryo studies, including embryonic stem cell therapy, human in vitro fertilization and cloning.
Brinster's next goal was finding a way to change the germ line. Through various experiments using the mouse model, he found that changing the germ line was possible by injecting donor cells into blastocysts. These cells then colonized the blastocyst and became part of the embryo. In other words, the germ line could be permanently changed with the introduction of these new cells, according to Brinster.
Brinster also established methods for injecting nucleic acids, including genes, into eggs. Once these new genes were inserted into the germ line of a developing organism, they became part of the genetic program.
This process, known as transgenesis, would allow researchers to produce animals with selected traits.
The research was part of the now famous giant mouse experiment, which Brinster worked on in collaboration with Richard Palmiter, Ph.D., of the University of Washington School of Medicine.
The large mouse has become a symbol of the transgenic revolution and the ability to change germ line, Brinster says.
Great Honors
Brinster has received numerous awards for his research, including the March of Dimes Prize in Developmental Biology, the Bower Award and Prize for Achievement in Science from the Franklin Institute, the Pioneer in Reproduction Award from the National Institute of Child Health and Human Development and the Ernst W. Bertner Award from the University of Texas, among others.
Just this past October, Brinster received the National Medal of Science, the highest honor bestowed by the United States government on scientists and engineers. The ceremony was held at The White House, where President Barack Obama congratulated Brinster and the other six medal recipients.
"It was a surprise and a great honor," Brinster says.
According to The White House Office of the Press Secretary, "[Brinster's] research has provided experimental foundations and inspiration for progress in germ line genetic modification in a range of species, which has generated a revolution in biology, medicine and agriculture."
Brinster is the first veterinarian to receive the award since it was created in 1959.
"It is a major award for veterinary medicine," he says. "I think veterinary medicine makes many contributions and [veterinarians] often are not well recognized."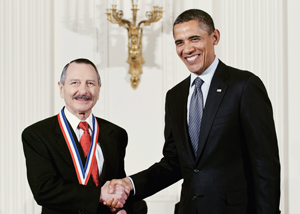 President Barack Obama congratulates Dr. Brinster on his National Medal of Science honor. The ceremony was held Oct. 21, 2011, in the White House.
The research itself is fundamentally important because it's a major change in the way man interacts with other species, he adds.
Joan Hendricks, VMD, Ph.D., the Gilbert S. Kahn Dean of Veterinary Medicine at Penn Vet, says she is incredibly proud of Brinster.
"He is undoubtedly the top veterinary scientist in the world, especially if you consider his sustained excellence and demonstrated brilliance over at least five decades, and he is one of the top biomedical scientists anywhere," she said just before Brinster received the award.
How the Scientific Journey Began
Brinster's interest in animal genetics and the mammalian germ line started at a young age growing up on a small farm in northern New Jersey. Even in grammar school, he says, he understood the correlation of genetics and breeding and how it can bring about quality livestock.
Brinster later took his passion for animal development and breeding to Rutgers University School of Agriculture, where he earned a bachelor's degree in animal science in 1953.
He then served a year in Korea in the U.S. Air Force. It was there that Brinster solidified his decision to become a veterinarian.
"I thought I would like the aspects of medicine and understanding a complete picture of how the animal functions," he says.
After finishing his military service, he applied and was accepted to Penn Vet, where he earned his VMD in 1960. He earned his Ph.D. at the university four years later.
Over the years, Brinster says, he has learned to approach things systematically. This includes setting an objective, determining what resources are on hand, developing a plan and working relentlessly … in that order.
But there's another important component, according to Brinster: Luck.
"Luck is the most important part," he says.
This systematic approach just seemed logical.
"You have to know what you are after and figure out how you are going to get it," Brinster says. "Once you know where you are going and see what [resources] you have … when you line them up in the proper order you have the best chance of getting that objective. Then having a little luck certainly is key."
Continuing the Journey
Asked if retirement is in sight, Brinster gives a soft chuckle.
"My parents passed on good longevity genes," he says. "My father lived to 98 and my mother not quite as long. She only lasted to 92, so I am taking the average." Brinster declines to reveal his age.
Brinster's most recent research includes spermatogonial stem cells, which could be used to restore fertility to prepubescent boys treated for cancer.
About 80 percent of these boys recover from cancer, but one-third end up infertile or severely subfertile because of treatment, Brinster notes. By preserving testicular cells from treatment, the hope is that these cells can later be multiplied and reintroduced to these patients to restore fertility.
If there's one thing Brinster wants other veterinarians to know it's that veterinary medicine is a profession. Brinster points out the various aspects of the profession: the practice, the trade (i.e. training and mentoring) and the production of new information (i.e. research).
"Never lose sight of the fact that this is a profession of first order," Brinster says. "To maintain that stature, we have to really watch how we train our new veterinarians, that they really understand about medicine, the basis of it and the research that is behind it. The profession must have a solid research foundation."
There's more to veterinary medicine than just practicing, he adds.
"That's what makes us a profession rather than a trade," he says. "Most of us practice, and want to practice, and many of us will have the opportunity to participate in the trade aspect of training new veterinarians. But we must go beyond that as a profession and make sure we are in the first ranks creating new knowledge so that we are regarded as a profession, not a trade.
"That is the most important thing to me," he continues, "to see the profession thrive, from the practice to the trade, to the generation of new knowledge where people say, 'Gee, look what they did. Oh, that is a veterinarian.' I do not know how many times people have said to me, 'I did not know veterinarians did this type of work.'"