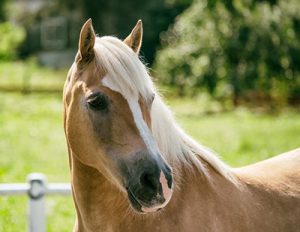 A study presented by Sheila Schils, Ph.D. at the 2017 American Association of Equine Practitioners Convention discussed the use of functional electrical stimulation (FES), a type of electrotherapy that stimulates motor nerves responsible for muscle function, to reduce back pain in horses with asymmetric multifidi muscles.
The principal of EquiNew, a company that specializes in therapeutic modalities for use in the equine industry, Schils' presented the results of a study conducted by Diane Isbell, DVM, a private practitioner from Livermore, Calif., Suzan Oakley, DVM, DACVSMR, of Oakley Equine Sports Medicine in Florida, and Ugo Carraro, MD, of the University of Padova in Italy.
The team worked with a group of 24 horses: 12 that received FES treatments and 12 that did not. All 12 of the horses that received the treatments were retired—two due to back problems and the remaining 10 for reasons unrelated to the back. None of the 24 horses in the study had been ridden for two months leading up to the study.
Researchers administered 35-minute FES treatments to the 12 retired horses three times per week for eight weeks. Schils said researchers placed a back pad with six electrodes between thoracic vertebrae 10 and lumbar vertebra 4, which produced symmetrical longitudinal (from front to back) pelvic rotation for two seconds. This was followed by a two-second pause before stimulating again.
After eight weeks of treatment, ultrasounds of the test group's multifidi muscles showed a significant improvement in symmetry at all locations, with no change in the size of multifidi in the untreated group. These results, Schils said, suggest FES might help reduce back pain in horses with this condition.