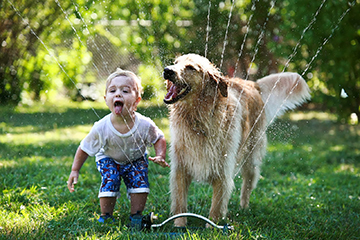 Top cancer researchers and leaders in pediatric and veterinary medicine gathered for the first-ever Paws for a Cure Summit, hosted by Canines-N-Kids Foundation, a nonprofit that promotes research for the benefit of both kids and dogs with cancer, to discuss barriers and find solutions for enhancing collaborative efforts aimed at finding cures for cancers shared by kids and dogs.
At the National Press Club in Washington, D.C., the summit brought together top leaders and researchers in veterinary and pediatric oncology, immunology, translational science, industry, and cancer advocacy to develop a plan to spark innovation in pediatric cancer treatment in ways that might also help man's best friend.
During the summit, attendees identified key challenges and opportunities to accelerating progress, including:
Reducing gaps in regulations to ease the inclusion of canine clinical trials in the drug development process in ways that benefit canine and human cancer patients
Providing incentives for formal training in clinical sciences targeting veterinary trainees to expand the pool of expert veterinary oncologists
Improving the resolution of maps that facilitate comparison of canine and human genomes and defining a larger set of genomic cancer markers through sequencing and comparing dog tumors with human tumors
Supporting research that generates improved understanding of canine immunology across breeds to better predict how dogs and kids might respond similarly or differently to cutting-edge cancer therapies
Promoting an improved understanding and acceptance of comparative oncology among the pet owners and pediatric cancer communities
Improving coordination between collaborative groups that organize clinical trials in pets and in people
As next steps, the Canines-N-Kids Foundation pledges to:
Enhance communication and share information among both pet and human medical worlds
Improve the basic research tools for veterinary cancer researchers, providing proteins, antibodies, assays, and other tools for canine research similar to those used by their human oncology counterparts
Create and publish a compelling business case for canine clinical trials in pharmaceutical drug development using real-life examples of integrated drug development
Prioritize Canines-N-Kids grants and ensure critical, collaborative research projects get funded
Develop and support cross-disciplinary working groups to remove barriers to effective, efficient, productive collaboration between veterinary and pediatric communities
"Dogs and kids need each other," said Ulrike Szalay, founder and executive director of Canines-N-Kids Foundation. "Both develop a number of similar or even identical cancers, but the worlds of pet and pediatric cancer research largely function separately. We are working to change this so that veterinary and pediatric researchers can work together to develop better medicines and find more cures."
"I left believing there is a better chance for my human osteosarcoma patients," said Damon Reed, leader of the Pediatric Cancer Foundation's pediatric phase I consortium, the Sunshine Project. "When I got home, I hugged my dog extra, as well."
The summit was supported by Petco Foundation, the Blue Buffalo Foundation, the V Foundation for Cancer Research, and the Quad W Foundation.