Suggested Veterinary Products
A team of researchers at Kansas State University, the University of Missouri and global biotechnology company Genus plc say they have developed pigs that are resistant to the porcine reproductive and respiratory syndrome (PRRS) virus. Researchers refer to the PRRS virus as the most devastating disease in the swine industry, one that has cost the U.S. pork industry more than $10 billion since it first appeared in the late 1980s.
The discovery of PRRS-resistant pigs could significantly improve animal wellbeing and save hundreds of millions of dollars each year, said Raymond "Bob" Rowland, Ph.D., professor of diagnostic medicine and pathobiology in the College of Veterinary Medicine at Kansas State University, and one of the researchers involved in the discovery.
"In the decades that we have had the PRRS virus, we have looked at vaccines, diagnostics and other strategies and we have never been able to eliminate the disease," Dr. Rowland said. has been studying the PRRS virus for more than 20 years. "This is the first time that we have established the potential to eliminate this devastating disease."
Rowland partnered with several University of Missouri researchers, including Randall Prather, Ph.D., professor of animal sciences in the College of Agriculture, Food and Natural Resources; Kristin Whitworth, Ph.D., research scientist in MU's Division of Animal Sciences; and Kevin Wells, Ph.D., assistant professor of animal sciences.
Dr. Prather's laboratory developed the pigs and Rowland's laboratory tested for the PRRS virus infection at Kansas State University's Large Animal Research Center.
"Once inside the pigs, PRRS needs some help to spread; it gets that help from a protein called CD163," Prather said. "We were able to breed a litter of pigs that do not produce this protein, and as a result, the virus doesn't spread. When we exposed the pigs to PRRS, they did not get sick and continued to gain weight normally."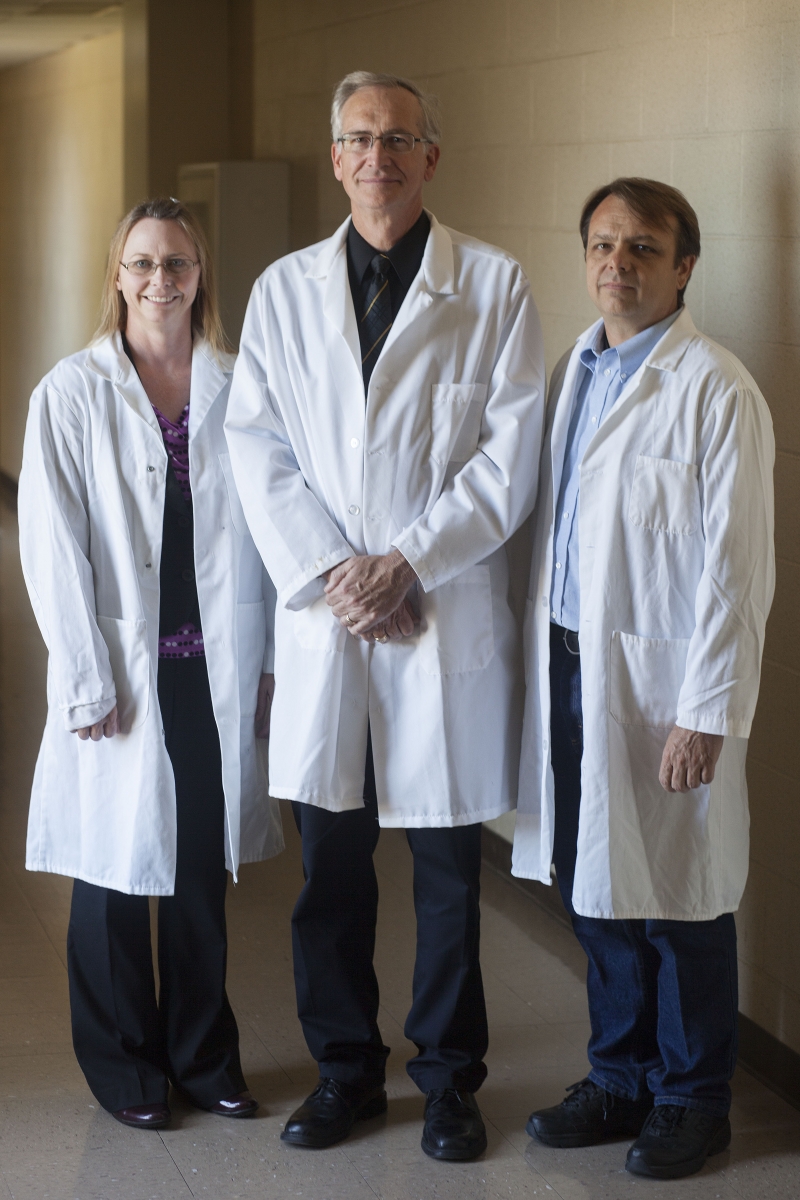 University of Missouri
Drs. Kristin Whitworth, Randall Prather and Kevin Wells from the University of Missouri worked to breed pigs that are not harmed by PRRS.
Scientists have been trying for many years to determine how the virus infected pigs and how to stop it, according to the University of Missouri. Previously, researchers believed that the virus entered pigs by being inhaled into the lungs, where it attached to a protein known as sialoadhesin on the surface of white blood cells in the lungs. However, two years ago, Prather's group showed that elimination of sialoadhesin had no effect on susceptibility to PRRS. A second protein, called CD163, was thought to "uncoat" the virus and allow it to infect the pigs, according to the university. In their current study, Prather's team worked to stop the pigs from producing CD163.
"We edited the gene that makes the CD163 protein so the pigs could no longer produce it," Dr. Whitworth said. "We then infected these pigs and control pigs; the pigs without CD163 never got sick. This discovery could have enormous implications for pig producers and the food industry throughout the world."
The University of Missouri reported that it has signed an exclusive global licensing deal for potential future commercialization of virus resistant pigs with Genus plc. If the development stage is successful, the commercial partner will seek any necessary approvals and registration from governments before a wider market release, the university noted. Genus plc said it expects that it will be at least five years until PRRS-resistant animals are available to farmers.
"At the end of our study, we had been able to make pigs that are resistant to an incurable, untreatable disease," Dr. Wells said. "This discovery could save the swine industry hundreds of millions of dollars every year. It also could have an impact on how we address other substantial diseases in other species."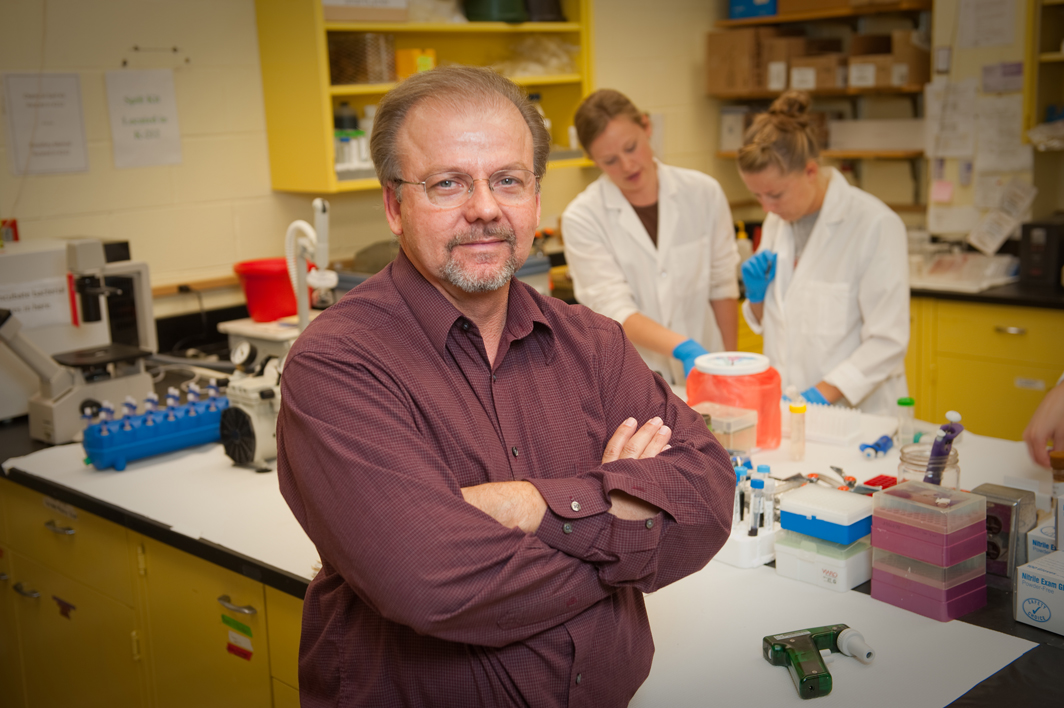 Kansas State University
Dr. Raymond "Bob" Rowland, professor of diagnostic medicine and pathobiology at Kansas State University, is involved in a collaborative project that has developed pigs that are resistant to the devastating disease caused by the PRRS virus.
Rowland expressed similar sentiments. "At the very least, the development of PRRS-resistant pigs is a new tool for improving pig wellbeing and reducing economic losses. At the most, it could be the beginning of a revolution that will eradicate many of the most important livestock diseases that affect global animal and human health communities."
The research, "Gene-edited pigs are protected from porcine reproductive and respiratory syndrome virus," appears in a December article in Nature Biotechnology.