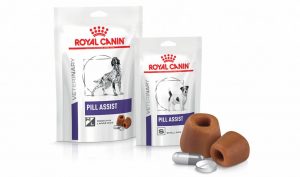 Royal Canin has launched veterinary-exclusive Pill Assist soft chews to simplify administering medication to dogs.
According to a study by the company, Pill Assist enabled successful pill administration in 97 percent of cases.
"We understand the stress pet owners face when trying to provide necessary medication for their pets," said Catherine Lenox, DVM, CVA, DACVN, scientific affairs manager for Royal Canin. "A dog's medication cannot help if it is not taken. Royal Canin developed Pill Assist to ease the burden on pet owners and enable dogs to better consume the medication they need."
The product's soft texture can be molded around any pill shape, is available in sizes for small and medium-to-large dogs, has moderate calorie content, and includes vitamins and prebiotics.
The product can be found at select veterinary clinics.