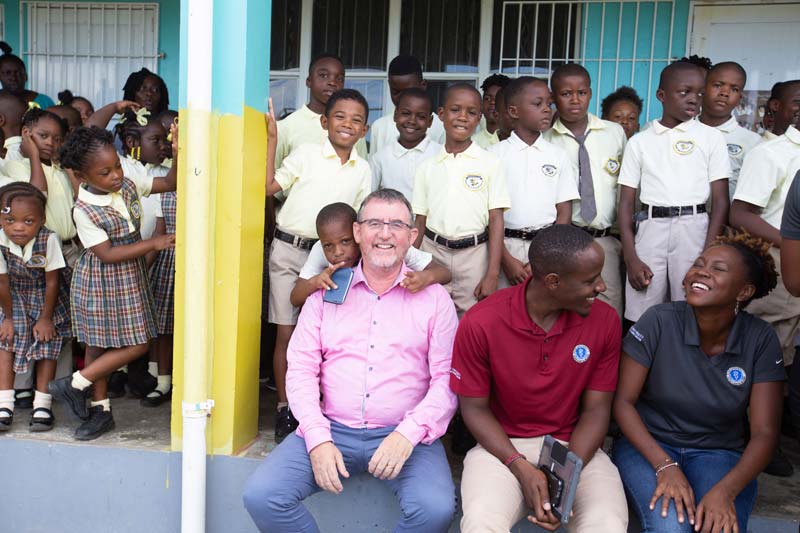 Primary school students in the Federation of St. Kitts and Nevis are prepared to hit the books, thanks to Ross University School of Veterinary Medicine (RUSVM).
The university donated back-to-school supplies to students at two local schools and through other community organizations.
"As an educator, I firmly believe in the power of learning, beginning at a very young age," says Dean Sean Callanan, PhD, MVB, MRCVS CertVR, DipECVP, FRCPath. "RUSVM is pleased to support local students as they begin the school year."
More than 100 students from Bronte Welsh and Dr. William Connor primary schools received books, bags, pencils, pens, and pencil cases.
Additionally, RUSVM gifted school supplies to 40 at-risk youth through the Mol-Phil Explorers Club, an organization working to reduce and prevent crime through positive community involvement.
"Over the last two years, RUSVM has given generously to the Mol-Phil Explorers," says Rosemarie Isles Joseph, the group's founder. "This contribution is well-appreciated and will support our efforts to cater to the welfare of the children in the Mol-Phil Explorers Club."
The Single Mothers' Network, an organization founded by a RUSVM employee that supports more than 30 single mothers in the federation, also received a donation.
"RUSVM's focus on education and community building will help give moms the supplies they need for the upcoming year," says network president, Danella Hodge. "We are thankful for this gesture, and happy to begin this meaningful partnership."