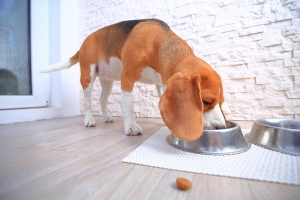 A warning has been issued in Nebraska for Salmonella in canine dog foods.
The U.S. Food and Drug Administration (FDA) is alerting pet owners that A+ Answers Straight Beef Formula for Dogs, lot 2018 20/08 20, has tested positive for the bacteria.
Lystn, the brand owner of A+ Answers Straight Beef Formula for Dogs, has recalled the affected lot in Nebraska, but has not implemented a nationwide recall.
The FDA is still working with the company to gather comprehensive distribution information.
The administration is urging pet owners who have purchased the infected lot to throw it away in a secure container where other animals, including wildlife, cannot access it.
The FDA is also recommending pet owners clean refrigerators/freezers where the food was stored and disinfect all bowls, utensils, food prep surfaces, pet bedding, toys, floors, and any other surfaces it or a pet may have had contact with.