Suggested Veterinary Products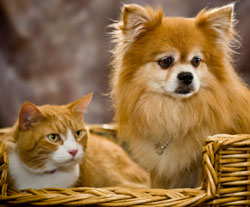 Santa Barbara County, Calif., will not require pet owners to spay or neuter their cats and dogs for now. County supervisors decided to form an 11-member community task force instead, charging it with studying the effects of a mandatory spay and neuter ordinance.
Tuesday's 4-1 vote by the board of supervisors means that the implementation of a countywide spay/neuter ordinance will be delayed for months. The task force will consist of board-appointed individuals.
The goal of the county's draft ordinance is to "reduce pet overpopulation and arrest the growth of the associated costs," a staff report prepared for the board of supervisors states. The usual exemptions in such ordinances include:
Veterinary medical exemption
Purebred and/or show cats and dogs
In the county temporarily
Working dogs (law enforcement, service, search and rescue, herding and others if determined)
Breeding permit, if breeding
If pet owners don't comply, they generally get "fix-it" tickets, with a grace period to resolve their case. Exemptions and grace periods, however, are not enough to gain the support of some animal groups.
On one side of the ongoing spay/neuter debate, opponents say that a mandatory spay/neuter law infringes on the property rights of pet owners and might also put dogs and cats at risk. Supporters, however, say that enacting such laws helps manage the pet population and prevent the mass euthanasia of millions of unwanted cats and dogs.
Within the county of Santa Barbara, the city of Lompoc passed its own spay/neuter ordinance in 2006. Various counties and cities across the United States also mandate the spaying or neutering of cats and dogs.
A mandatory ordinance in place since 1995 in Santa Cruz County, Calif., served as a model for similar legislation passed in San Mateo, Lake, Stanislaus, Sacramento and Los Angeles counties. California cities with such ordinances on the books include Los Angeles, San Bernardino, Sacramento, Agoura Hills, Santa Clarita, La Puente, Palmdale, Walnut and Clearlake.