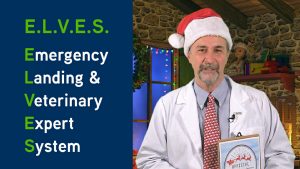 Santa Claus' reindeer are in need of a valiant team of veterinarians to ensure they stay healthy and on schedule on Christmas Eve.
The North Pole's official veterinarian is ringing his sleigh bells for volunteers to join the Emergency Landing and Veterinary Expert System (E.L.V.E.S.), a group whose job is to oversee the well-being of Santa's nine holiday helpers.
"I'm looking for veterinarians from around the country to help me in this highly important effort," said John de Jong, DVM, Santa's personal animal caregiver and president of the American Veterinary Medical Association (AVMA).
"In the event the reindeer need to make an unscheduled Christmas Eve stop for sled repairs, refueling, or veterinary care, veterinarians in the E.L.V.E.S. program will be on call to provide needed assistance and ensure a safe and on-time delivery of Santa's precious cargo."
As the appointed helper of Santa's sidekicks, the AVMA president travels to the North Pole every year to give the reindeer a pre-flight health check and make sure they have all the required certificates allowing them to travel across state and national borders
The reindeer's annual exam includes a health check to make sure the reindeer are not showing any signs of disease, such as brucellosis, tuberculosis, or chronic wasting disease that can be transmitted to other animals worldwide.
"Without my reindeer, there simply would be no Christmas," Santa said in a statement.
"Proper veterinary care ensures that, year in and year out, my team and I are able to deliver presents to boys and girls around the world. It's safe to say Dr. de Jong is on the 'nice list' this year."
To join, veterinarians can download a badge to let their clients know they are part of Santa's E.L.V.E.S. support team. To participate, click here.