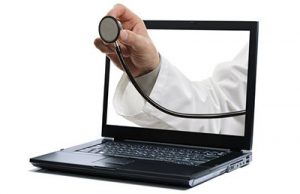 At the second annual Veterinary Innovation Summit (VIS), which concluded recently on the campus of Texas A&M College of Veterinary Medicine & Biomedical Sciences (TAMUCVM), several of the veterinary startup exhibitors included a televeterinary component in their offerings, and it also was a common lecture and breakout topic. Currently, most state practice acts require a hands-on physical exam to create a veterinary-client-patient relationship (VCPR) before a veterinarian can provide any service that might involve animal diagnosis, prognosis or prescription. One of the breakout sessions featured Rolan Tripp, DVM, who spoke on the subject, "Should telemedicine practitioners be globally certified?" Following is an interview with Dr. Tripp about his presentation.
How long have you been interested in telemedicine?
I published my first futurist article in 1984, "Veterinary Telecommunications," and incorporated a business of the same name in 1986, so I have been interested in this field for quite some time. In that first article I predicted that high-speed broadband internet would be ubiquitous and global televeterinary medicine would be common by the year 2000.
Why suggest a global standard now?
Control at the state level made sense when every animal patient lived within a reasonable travel radius. Televeterinary applications cross state and country boundaries. It's the difference between regulating cars versus airplanes. Second, since I sold my small animal practice in 1999, most U.S. small animal general practices have encountered competition from one profit center after another. The key remaining and most important asset we have is our veterinary education. I believe the single largest opportunity for the profession in the future is providing remote veterinary consulting directly to animal owners in the U.S. and to developing countries around the world. This is already happening in food animal consulting. I am suggesting that veterinarians could potentially sell their knowledge to anyone in the world with a pet, a smartphone, and a bankcard–either full time or during slow times within their practices.
Why can't they do that now?
Some do—but at professional peril. Ron Hines is a veterinarian in Texas who was providing pet medical advice by telephone to people around the globe for a fee. He was cited and fined, and the Texas State Veterinary Examining Board revoked his license. Dr. Hines appealed all the way to the 11th Circuit Court; the U.S. Supreme Court refused to review his appeal. The court decided that the state's right to regulate the practice of veterinary medicine trumped his free speech. Several U.S. states are revising their veterinary practice act now to address televeterinary medicine. The idea is to carefully develop proposed guidelines for states and other countries to consider when they next revise their practice act.
Who will develop these proposed televeterinary guidelines?
I invited every attendee of the 2018 VIS and encourage anyone else interested in the future of the veterinary profession to visit VeterinaryFutureSociety.org, register for free, and join the online discussion about these proposed guidelines. The plan is to allow up to one year to get consensus on wording, and then bring that wording to next year's VIS for final consideration and then distribution to any interested party.
How difficult do you expect it will be to get consensus on wording?
We produced a first draft in our breakout session at the 2018 VIS. The challenge will be to encourage high-quality remote veterinary consultation while protecting the global public from charlatans and internet thieves.
How would these guidelines be enforced?
Only regulatory agencies such as country or state veterinary examining boards can control a license, but there are other ways. One proposal is to create a televeterinary protection fund by calling on every company that has an interest in the global growth of veterinary medicine. If any pet owner reported they were wronged via televeterinary consulting, this proposed entity would investigate. If the practitioner was following the televeterinary guidelines and was sued, then there would be legal protection available. Conversely if a little digging discovered that a person (DVM or not) was harming the credibility of televeterinary consulting then the protection fund would protect pets, people, and the profession by investigating, reporting findings to the appropriate regulatory agency, and, where necessary, bringing a lawsuit directly.
Why do you use the term "televeterinary" instead of "telemedicine"?
First, by itself, the word "medicine" generally refers to human medicine. Every veterinary degree modifies the word medicine; e.g. Doctor of Veterinary Medicine or Veterinary Medical Doctor. Second, the prefix "tele" means "from far." I suggest that we retain the concept of a local VCPR to mean a hands-on veterinary exam was done. Then we can define a different, clearly remote televeterinary exam. I propose that we create a televeterinary-client-patient relationship (TCPR) classification because it is fundamentally different from a VCPR. (See sidebar of potential new terms.)
Why would states change their practice act to accommodate televeterinary medicine?
First, because all over the world there are millions of pets suffering and living with owners who would readily pay for quality veterinary diagnosis and treatment if it were available remotely. Second, I predict that in the future state boards will be charged with "restraint of trade" if they are unnecessarily preventing veterinarians from increasing their income by helping those people and pets. Third, I suspect there will be constituent pressure on elected officials to direct the examining boards to adapt to the information age. Millennials will likely demand the convenience and televeterinarians living in the approved states will make so much more money (and pay taxes) that the government will be highly motivated to avoid lawsuits and attract a new tax base. When states or foreign countries review their regulations, we want them to have access to guidelines developed by veterinarians instead of someone else.
Defining televeterinary terminology
Rolan Tripp, DVM, proposes using the term "televeterinary" as distinct from "veterinary" to define the following terms:
Televeterinary exam – Records kept sufficient to defend any findings

Televeterinary diagnosis – Records kept sufficient to defend any diagnosis

Televeterinary prescription – The trickiest aspect because of drug traffickers

Televeterinary consultation – Not involving a primary diagnosis, or prescription

Televeterinary medicine – Includes either diagnosis, prognosis, or prescription

Televeterinary practice – A business following eventually approved guidelines

Televeterinarian – Licensed in at least one country and following approved guidelines

Televeterinary nurse – A registered veterinary nurse following approved guidelines

Televeterinary monitoring – Remote video and biometric monitoring
What might be included in a televeterinary exam?
A detailed online medical record, ideally contributing to an informatics outcome database

Remote audio or high-definition smartphone video (preferably recorded)

Body weight (measured by the pet owner)

Body temperature (if indicated, collected with a bio-thermometer by the owner)

Blood tests (remote testing kit involving nail-trim blood-drop collection)

Saliva tests (including genetic testing)

GPS contributing to recognition of global disease patterns

Nail or hair samples (if these become important in the future)

ECG (kit sent with directions)

In the future, possibly remote kits for X-ray, ultrasound, EEG, or new tech

Collaboration with a specialist who speaks with the pet owner as needed
What type of televeterinary prescription might occur?
Products

Physical therapy

Prescription diets

OTC (over the counter) medications

Nutraceuticals and nonprescription food supplements

Legend medications requiring a U.S. state or foreign country licensed DVM prescription

Controlled medications requiring a DEA license (if current laws were amended)
What is required for global pet televeterinary practice?
Ideally a veterinarian local to the pet who requests expert assistance

A remote veterinarian with the technology to assist and licensed in 1+ country

A pet who would benefit

A financially capable pet owner

A smartphone with audio-visual capability

Internet access and data plan

A valid bankcard

UPS or other delivery option

Guidelines for televeterinary practice