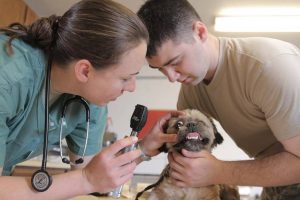 Not everyone agrees that veterinary professionals should apologize when they make a mistake. In fact, liability organizations discourage veterinarians from doing so. David Carser, BVSc, LLB, CML, president of the Veterinary Defence Association (VDA), shares his expertise on the art, science, and legalities of making apologies (or not) in the clinic setting.

PZ: Why do you advise caution before apologizing?
DC: The real problem with giving an apology is there is always a risk it might come back to bite you. In some situations, an apology actually would be inappropriate.
It is fundamentally important to determine from the outset whether the event in question falls into the liability categories, in ascending order of gravity, of mere adverse outcome, mere oversight, mere medical error, professional misconduct, or negligence. It would not be appropriate to apologize for an event that fits the first three categories, and it could turn out to be a really bad idea to do so in the last two categories.
PZ: Isn't apologizing the respectful thing to do?
DC: Proponents of the TEAM (truth empathy apologize manage) approach regard apologizing as a magnanimous gesture acknowledging fallibility and deserving of forgiveness, reflecting the integrity and high moral standard expected of a veterinary professional. If the owner is in a magnanimous mood, then your apology might be well received and you might be forgiven and even respected for making the gesture.
However, if the owner is not so benevolent, the danger is your apology might instead be misconstrued and be used against you as an admission of your guilt. Owners come in many different forms, including those who may seek vengeance or retribution in the event that something happened to their animal. The worst type of owner is the one who sees it as an opportunistic source of enrichment. They may use your apology to prove you were guilty of misconduct as part of a complaint filed with your state veterinary board. Your apology also may be used by their attorney against you in a civil lawsuit.
Any legal action against you places you at risk of a conviction. Any action against you in which the event fell into the first three categories places you at risk of an unfair conviction.
PZ: Explain the differences among mere adverse outcome, mere oversight, mere medical error, professional misconduct, and negligence.
DC: "Mere" implies the treatment did not fall below the required minimum standards of care. An adverse outcome implies the outcome of a treatment was detrimental and unexpected. An oversight is an omission, while a medical error is an adverse effect of medical care. Professional misconduct and veterinary medical negligence imply a failure to meet minimum standards of care. Negligence is a civil law standard, whereas professional misconduct is a professional disciplinary standard.
A veterinarian becomes liable only when his or her professional conduct did not meet the required minimum standards of care. So, an event that fits the first three categories implies the veterinarian was not at fault. If the veterinarian was not at fault, an apology would be inappropriate—not to mention dangerous.
Removing the wrong skin mass, for example, would be regarded as a mere oversight. On the opposite, amputating the wrong leg may be professional misconduct or negligence depending on the circumstances.
PZ: Why would an apology be considered inappropriate?
DC: Veterinary liability must be viewed against the backdrop of the severe constraints faced by the veterinary profession. Mere adverse outcomes, mere oversights, and mere medical errors reflect these constraints. Mere adverse outcomes often occur due to the fact veterinary medicine is not an exact or reproducible science.
Owner financial constraints mean that veterinarians are overworked and can afford fewer team members, making them vulnerable to mere oversights. Owner financial constraints also mean a veterinarian cannot always perform every test needed to eliminate all differential diagnoses, making the veterinarian vulnerable to misdiagnosis (a mere medical error). None of these are the "fault" of the veterinarian. They are simply part and parcel of veterinary practice that come with the territory. If they are not the veterinarian's fault, and apologizing might place the veterinarian at unnecessary risk, then apologizing for them would be inappropriate.
Apologizing should be a matter of integrity—not generosity. There is no integrity in an apology for events that occurred due to factors that were beyond the veterinarian's control. Integrity requires that explanations be based on reality, not obfuscation. If the reality is that the constraints of veterinary practice contributed to the cause, that is the explanation to be provided.
PZ: Rather than the TEAM approach, what do you recommend?
DC: The appropriate approach is to correctly categorize the event and manage it accordingly. Owners are not pacified by apologies alone. They want to be taken seriously. They want timely and substantial answers to their concerns. They want restitution in the event the veterinarian did not meet the required standards of care. And they want to know that steps will be taken to protect animals against any such lapses in standards in the future.
The VDA's complaints and claims management program has evolved over the years to take care of these, especially the alternate dispute resolution, which listens to the owner's concerns and provides answers and assurances. The owner compensation processes reimburse owners for losses suffered due to negligence.
Owners tend to get angry and take legal action when they believe their concerns are not being treated seriously or their veterinarian is trying to avoid responsibility. Poor communication after an event is often due to indecision and lack of confidence. In order to be open and upfront with the owner, you either need to have the knowledge and confidence you can manage the situation properly yourself, or you need the advice and guidance of professionals who are in the everyday business of veterinary law.
Dr. Phil Zeltzman is a board-certified veterinary surgeon and serial entrepreneur. His traveling surgery practice takes him all over eastern Pennsylvania and western New Jersey. Visit his websites at DrPhilZeltzman.com and VeterinariansInParadise.com.