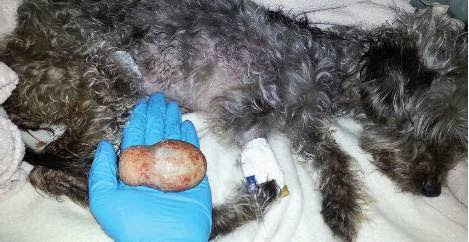 Rachel Currao, DVM, has seen a lot in her nine years as a veterinarian, so she was incredulous when she was told to await the arrival of a toy poodle mix dealing with a 7-centimeter bladder stone.
"I told them they must have had their measurements wrong," Dr. Currao said.
But after verifying everything with radiographs and seeing the condition of Lizzie, who could only lie on her side and had kidney values "through the roof," Currao made the life-or-death decision to get Lizzie into surgery immediately.
"Because of how severe the blockage was, I didn't think the dog would survive the night," said Currao, adding that she normally would have stabilized a dog in Lizzie's condition overnight before operating.
The massive stone had completely filled the bladder, extended into the urethra and blocked the ureters leading from the kidneys.
"There was really no place for the urine to go," said Currao, "so it is understandable why she was having the accidents, because she had no space in her bladder."
The accidents were what made Lizzie's original owners drop her off at a high-kill shelter in Brooklyn, N.Y.
One Life to Live, a Scranton, Pa., animal rescue, decided to take a chance on Lizzie, pull her out of the shelter and figure out what the problem was.
The 8-pound dog was so sick and emaciated when she was brought in that euthanasia was an option, Currao said.
"We discussed it with the rescue, but they wanted to give her a chance," she said.
The surgery took 20 minutes.
"We had to get in and out if we were going to get her through it alive," Currao said. "I've never seen one stone completely filling the bladder to the point where I had to peel the bladder off of the stone."
Lizzie is doing much better today, although she is on medication and a special diet for chronic kidney disease.
The stone was sent to the Minnesota Urolith Center at the University of Minnesota, where an analysis determined it to be a canine struvite urolith associated with a urinary tract infection. Eighty-five percent of dogs with bladder stones associated with UTIs are female, the center notes.
Lizzie's surgery was paid for using donations through One Life to Live.
"It was unbelievably rewarding to watch her body bounce back and respond into the dog she is today," Currao said. "She does not look like the same animal."
---
Originally published in the February 2017 issue of Veterinary Practice News. Did you enjoy this article? Then subscribe today!