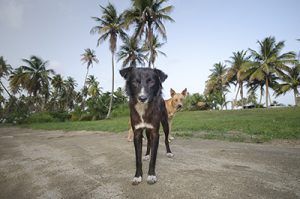 The Humane Society of the United States (HSUS) along with a coalition of 22 organizations from around the world will begin the first round of the Spayathon for Puerto Rico, June 3-9. The initiative, which is offered at no cost to pet owners, aims to spay and neuter at least 20,000 dogs and cats in the territory by May 2019.
"This is the first time such a broad collection of national and international groups has come together to intensively reduce the population of animals across an island," said Tara Loller, senior director, strategic campaigns and initiatives, HSUS. "We could not make this historic event happen without the generous participation of each and every coalition member."
The initiative will be funded with support from nonprofit organizations, including Maddie's Fund, PetSmart Charities, Petco Foundation, GreaterGood.org, and the 20/22 Act Society. Additional resources will come from groups including Banfield Foundation, Best Friends Animal Society, and Rescue Bank, which will provide supplies, such as vaccines, pet food, and crates.
Veterinary teams from Emancipet, ViDAS, Veterinarians for Puerto Rico, Maddie's Shelter Medicine Program at Cornell University, and Helping Paws Across Borders will provide high-volume spay/neuter services in locations across the island. Ground support will be provided by Puerto Rico-based groups, including the Humane Society of Puerto Rico, the Sato Project, the Puerto Rico Dog Fund, Friends of Culebra Animals, Wild at Heart Foundation, and Our Big Fat Caribbean Rescue.