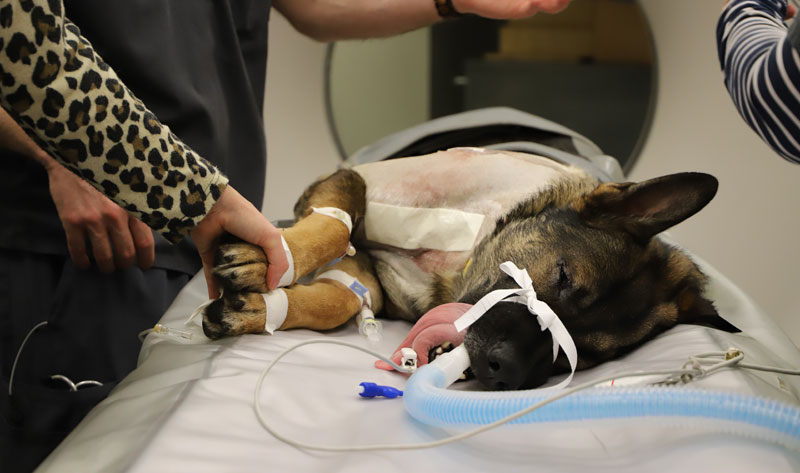 A K9 officer that was shot twice while on duty is back on his feet after undergoing eight hours of complex surgery at Oregon State University's (OSU's) Carlson College of Veterinary Medicine.
Arlo, the newest member of the Thurston County Sheriff Office K9 unit, was first rushed to Newaukum Valley Veterinary Services in Chehalis, Wash., after suffering two bullet wounds during a police chase in Washington State on Jan. 13.
Once there, the three-year-old German shepherd received surgery from Brandy Fay, DVM, for a through-and-through bullet wound to his leg. He was then referred to OSU for treatment of the second bullet, which was lodged near his spine.
It was soon learned the bullet had traveled through the dog's shoulder, chipping his shoulder joint before landing in his neck, OSU says. Further, the projectile had mushroomed inside his body, dragging hair, dirt, and debris deep into the tissue, which required extensive and careful cleaning.
Once admitted to the college's Lois Bates Acheson Veterinary Teaching Hospital, Arlo's orthopedic repair was handled by Jen Warnock, DVM, PhD, DACVS. Katy Townsend, DVM, DACVS, worked on his soft tissue damage, while Sandra Allweiler, DVM, oversaw anesthesia. Heading into surgery, Arlo was given a 60 percent chance of surviving the procedures, OSU reports.
Ultimately, the team fused the dog's C6 and C7 vertebrae with six screws and surgical cement, saving his life.
"It's a miracle Arlo's still alive," Dr. Warnock says. "The C6 vertebra was shattered; the bullet missed an artery that would've killed him by a millimeter. It could've destroyed his carotid artery.
"He's unlucky but lucky at the same time."
Arlo will likely develop arthritis due to the damage to his neck and shoulders and will not be returning to active duty with the Thurston County Sheriff Office, OSU says.
"The shoulder that had all the bullet damage is the weakest," Warnock says. "He's still weak, but he's improving by leaps and bounds."
Arlo has been on the job with the K9 unit for more than a year, OSU reports. In that time, he has amassed more than 1.2 million followers (and counting) on a TikTok account run by his handler, Deputy Tyler Turpin.
"He's an amazing dog," says K9 unit supervisor, Sergeant Rod Ditrich. "He's just so enthusiastic, and he's one of our most vocal, energetic dogs that we've got—he just is always happy, wants to please, just an amazing animal.
"We just want what's best for Arlo."
To keep up with Arlo's story, check him out on TikTok here.