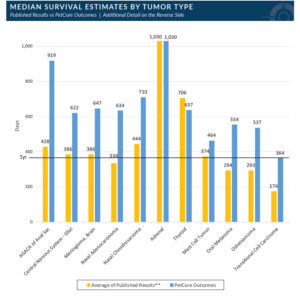 New data suggests a specific advanced radiation treatment protocol is leading to better survival outcomes than other therapy options for at least nine tumor types.
That's according to PetCure Oncology, which presented its findings at the recent Veterinary Cancer Society Annual Conference (VCS) in Houston, Tex.
The pet cancer care provider says nine of the 11 tumor types it studied showed increased median survival time relative to the current body of peer-reviewed published literature for pets treated with stereotactic radiation/stereotactic radiation therapy (SRS/SRT), an advanced form of radiation therapy used in human medicine.
The list of tumor types includes brain, nasal, osteosarcoma (bone tumors), mast cell, and melanoma.
"We have now treated more than 3,000 pets on-protocol with radiation therapy, including more than 2,200 with stereotactic radiation," says PetCure's chief medical officer, Neal Mauldin, DVM, DACVIM (internal medicine and oncology), DACVR (radiation oncology).
"The good news is that many of them are still alive and thriving, so the data is still maturing. But objective analysis of the preliminary data at this point suggests stereotactic radiation can be considered a standard of care for the treatment of many tumor types, much like it already is in human cancer treatment. This research is the least PetCure Oncology can do for the many pet owners suffering with a cancer diagnosis."
PetCure says the released data is a preliminary analysis. Formal publication through peer-reviewed channels is scheduled for next year and beyond as each segment of the data matures.