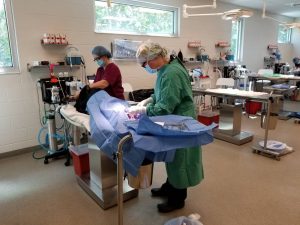 Most pets seen in nonprofit spay-neuter clinics belong to low-income families and do not receive regular veterinary care, according to a study published Sept. 15 in the Journal of the American Veterinary Medical Association.
In the JAVMA article, "Characteristics of clients and animals served by high-volume, stationary, nonprofit spay-neuter clinics," researchers Sara C. White, DVM, MSc; Julie K. Levy, DVM, PhD, DACVIM, DABVP; and Janet M. Scarlett, DVM, MPH, PhD, revealed the results of a nationwide study designed to determine to what extent low-cost spay-neuter clients are diverting clients from private practice veterinarians.
The study, which surveyed 3,768 owners of 2,154 dogs and 1,902 cats admitted to 22 nonprofit spay-neuter clinics across the United States in a nine-month period, showed nonprofit spay-neuter clinics predominantly serve low-income clients, animals lacking regular veterinary care, shelter animals, and community cats.
"Nonprofit spay-neuter clinics offer their services to pets who would not be sterilized otherwise," said Dr. White, executive director of Spay ASAP Inc. "Without them, a vital component of reducing pet overpopulation, as well as of public health, would be lost."
Income challenges, transportation issues, and no local veterinary services all can delay or prevent spaying and neutering pets, usually is combined with a lack of veterinary care and represents a public health challenge, according to the study's authors.
The study found most clients' household income was less than $30,000 annually. Most of their pets had not seen a veterinarian in the previous year, and many animals older than 4 months (81 percent of cats, and 32 percent of dogs) had never received rabies vaccinations.
Some nonprofit spay-neuter clinics offer services based on income verification, but their primary goal is to spay or neuter animals who wouldn't be sterilized otherwise, according to the study. For example, 64 percent of the clinics offered discounts to pit bull-type dogs; all offered discounts for feral cats.
The researchers say there are several problems with income-based access to spay-neuter services: those most in need are unable document their income/need, don't technically qualify but struggle to afford basic care, or forego pet care due to immigration status. Further, chasing this administrative "red tape" increases nonprofits' costs and staffing, and ultimately impacts their ability to serve clients and patients.
With more than 23 million dogs and cats in families with limited means, the lack of veterinary care ultimately results in a broken human-animal bond, according to Michael Blackwell, DVM, MPH, Director of the Program for Pet Health Equity, College of Social Work, at the University of Tennessee.
"These families need and deserve health care for all members, human and animal," said Dr. Blackwell. "Through better collaboration and attention to this national crisis, we can improve overall family health and well-being. Keeping families together builds healthier communities."
For more information, email Dr. White at sheltervet@mac.com.