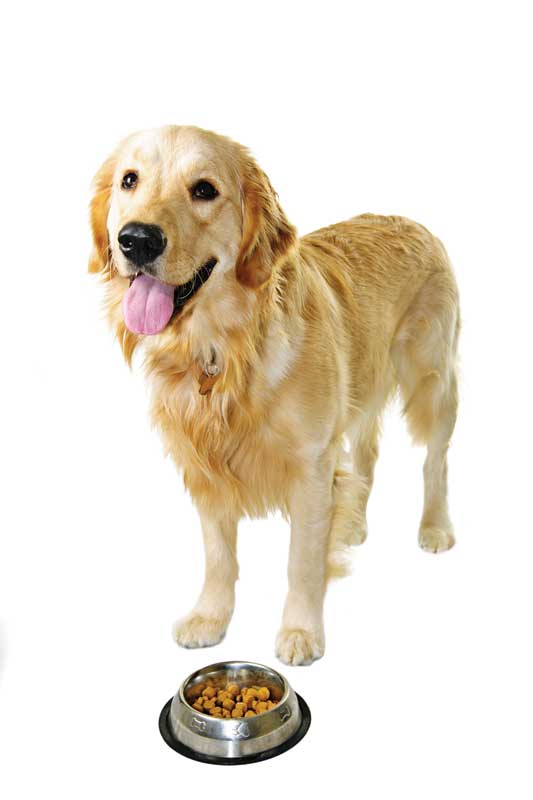 Osteoarthritis (OA) is a chronic, painful, degenerative condition that is estimated to afflict as many as 20 percent of dogs older than one year of age.2 Dogs can be affected in more than one joint, and the disease process can cause significant debilitation to our canine patients when not managed appropriately. A multimodal approach to the management of this condition has been recommended to target different pain receptors and attempt to control inflammation within the joints.
According to the North American Veterinary Nutraceutical Council (NAVNC), a nutraceutical is "a substance produced in purified or extracted form, which, when administered to patients, aims to provide them the necessary elements for their structure and normal function to better their health and well-being."18,19
Numerous dietary supplements are advertised to the general public, and veterinarians are often asked about their use and efficacy. Research has been performed to determine the safety and effectiveness of various dietary supplements, but unfortunately in veterinary medicine, these studies have some limitations. This article helps provide information on some of the dietary supplements offering the most significant benefit for canine patients with osteoarthritis based on the literature available. 
Polyunsaturated fatty acids: Diets and supplementation
The main dietary polyunsaturated fatty acids (PUFA) are classified as omega-3 and omega 6.4 Omega-3 is found in fish oils and tends to be anti-inflammatory, while omega 6 is usually pro-inflammatory.4 Roush et al. published two articles evaluating a diet high in omega-3 fatty acids (FA) and low omega-6:omega-3 ratio (Prescription Diet Canine j/d, Hill's Pet Nutrition).
One research paper looked at more subjective criteria on patients with osteoarthritis, while the other evaluated an objective measurement of lameness using force plate analysis to determine the effectiveness of the diet on patients with osteoarthritis.14,15 Both papers revealed a subjective improvement in the arthritis condition, as well as an objective increase in weight-bearing in patients with osteoarthritis. Fritsch et al. evaluated the same diet in combination with carprofen administration. The use of carprofen was reduced in dogs with stable chronic osteoarthritis when fed the diet high in omega-3 FA. This study was based on investigator assessments (subjective). Given it involved multiple clinics, the assessments varied. As a result, the insight gained was considered limited.16 Although the use of diets enriched in omega-3 FA would be useful in OA patients, the use of the product studied in the previous papers would not be advised for dogs on certain prescription or special diets.
The supplementation of fish oil onto standard diets also has been evaluated in patients with naturally occurring osteoarthritis. Mehler et al. used a lameness/discomfort visual analog scale (VAS) to determine the treatment effect. Throughout the evaluation of patients, there was an improvement in clinical signs in patients receiving fish oil daily.7 Another study evaluating the use of fish oil in dogs suffering from osteoarthritis over 16 weeks had a reduced consumption of NSAIDs, a greater peak vertical force (force plate objective measurement of weight-bearing), and a better quality of life at the end of the study; however, compared to placebo, there was not a statistically significant benefit as a pain reliever.4,9 One of the potential reasons a pain relief benefit was not seen may have been due to the dose administered to patients. John E. Bauer, DVM, PhD, DACVN, discussed the appropriate dosing of fish oils in the Journal of the American Veterinary Medical Association (JAVMA) in 2011. For osteoarthritis, 310 mg/kg0.75 is the recommended beneficial dose.17 Many owners supplement fish oil capsules daily; however, giving only a 1000-mg capsule would be significantly underdosing a large-breed dog weighing 40 kg. Instead, it should receive almost 5000 mg daily.
The glucosamine effect
Glucosamine and chondroitin sulfate are aminosaccharides that act as a preferred substrate for the biosynthesis of glycosaminoglycan chains.4 Glucosamine is considered a "chondroprotective" agent, as it affects chondrocyte activity.8 Numerous studies have evaluated the bioavailability of glucosamine and chondroitin, with varied results. McCarthy et al. determined that dogs administered glucosamine, chondroitin, and hyaluronic acid showed significant improvements in pain scores compared to dogs treated with carprofen, although the pain relief was delayed.4,5 Altilio et al. compared a glucosamine, hyaluronic acid, chondroitin mixture with the same mixture combined with glycosylated undenatured type II collagen. The results showed both treatments significantly alleviated pain compared to placebo. However, in a study by Moreau et al., no significant effect was seen with a glucosamine, hyaluronic acid, chondroitin mixture on ground-reaction forces and assessments by orthopedic surgeons, as well as owners. Similarly, a recent paper by Scott et al. revealed no beneficial treatment effect when compared to placebo and evaluated by patient activity monitors. This study also revealed improved owner assessment scores in both the treatment group and the placebo, although there was no improvement in patient activity, indicating a caregiver placebo effect in this outcome measure.13 The working dog population also has been evaluated via the canine brief pain inventory (CBPI) and the Hudson visual analog scale (HVAS) regarding the effectiveness of glucosamine versus carprofen in patients with hip osteoarthritis. In this study, neither the nutraceutical nor the carprofen was fully successful in promoting a clinical response in these working dogs, the greater demand on these patients being the proposed reasoning.8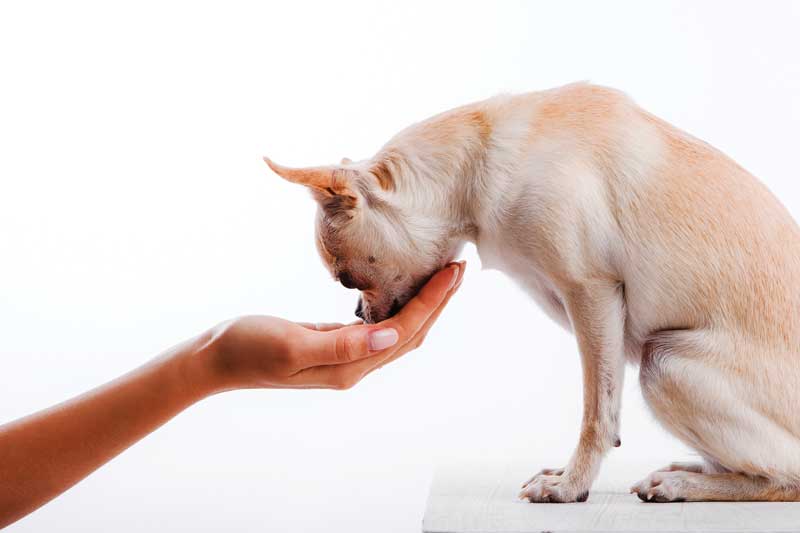 Green-lipped mussel (GLM) (perna canaliculus) has been evaluated in a variety of studies. Bui and Bierer noted a significant improvement in the test group versus the control group. Dobenecker et al. compared chondroitin sulfate to the GLM extract versus placebo. An important result of this study is that none of the tested substances led to improvements in patients, and both owners and veterinarians reported slight improvements in the symptoms, including the placebo group, again indicating a placebo effect.1,21 Rialland et al. led a double-blinded, longitudinally controlled study in which a GLM-enriched balanced diet appeared to significantly improve peak vertical force and motor activity. Further, owners reported a reduction in their pets' pain.4, 22 Polysulfated glycosaminoglycans (PSGAG) may be beneficial in treating osteoarthritis by inhibiting proteolytic enzymes, decreasing the production of inflammatory mediators and accelerating the extracellular matrix production by stimulating chondrocytes and synoviocytes.3,10 Fujiki et al. administered PSGAG twice a week for four weeks and evaluated lameness, as well as cartilage markers, to determine its efficacy. Lameness scores improved and markers of diseased cartilage were inhibited by PSGAG.10
An extract of turmeric (P54FP) and Boswellia resin also have been investigated. These two compounds have been used for their potential anti-inflammatory benefits. Innes et al. evaluated the effectiveness of the turmeric extract versus placebo, using force plate objective measurements to determine efficacy in patients with osteoarthritis of the elbow or hip. The results indicated no significant difference in the peak vertical force (weight-bearing) of the affected limb. The investigators' overall assessment showed significant treatment effect in favor of P54FP, but the owners' assessment failed to reach statistical significance.1,23 Reichling et al. conducted a multicenter clinical trial comparing conditions before and after treatment with Boswellia serrata. The supplement was administered at a dose of 400 mg per 10 kg of body weight and was found to have a significant reduction in the severity and resolution of clinical signs such as intermittent lameness, local pain, and stiff gait after six weeks.1,11
Conclusion
When evaluating the evidence from the literature, omega-3 fatty acids provide the most evidence to support beneficial effects for patients with osteoarthritis. There is evidence of improvement with a variety of the other supplements, such as glucosamine/chondroitin, green-lipped mussel, PSGAG,
and Boswellia. However, the studies have limitations and vary amongst their efficacy. Throughout the research, there were few if any adverse effects. Mild GI side effects were noted in a few of the papers, but also were seen with placebo. Given there is the potential for benefit in patients, the use of these supplements can be incorporated into the multimodal approach to pain management in osteoarthritis.
Priti S. Karnik, DVM, MS, Diplomate ACVS-SA, is an assistant professor of small animal surgery at Ross University School of Veterinary Medicine, from which she graduated with her DVM in 2001. Dr. Karnik completed a rotating small animal medicine and surgery internship, followed by a small animal surgery residency at Virginia-Maryland Regional College of Veterinary Medicine. She became a Diplomate of the American College of Veterinary Surgeons (ACVS) in 2006 and worked in specialty private practice from 2005 until 2011. In the summer of 2011, Karnik joined RUSVM as an assistant professor in small animal surgery. She also acted as one of the referral surgeons for the Ross University Veterinary Clinic. In 2014, Karnik, returned to specialty practice to start the surgical department at the Hope Advanced Veterinary Center in Maryland. After three-and-a-half years in private practice, she elected to return to her alma mater and join RUSVM as an assistant professor of small animal surgery once again.
References
Budsberg SC, Bartges JW. Nutrition and Osteoarthritis in Dogs: Does it Help? Vet Clin North Am Small Anim Pract 2006; 36: 1307-1319.
Johnston SA. Osteoarthritis: joint anatomy, physiology, and pathobiology. Vet Clin North Am Small Anim Pract 1997; 27: 699-723
Harper TAM. Conservative Management of Hip Dysplasia. Vet Clin North Am Small Anim Pract 2017; 47: 807-821
Comblain F, Serisier S, Barthelemy N, et al. Review of dietary supplements for the management of osteoarthritis in dogs in studies from 2004 to 2014. J Vet Pharmacol Therap 2015; 39: 1-15, doi: 10.1111/jvp. 12251
McCarthy G, O'Donovan J, Jones B, et al. Randomized double-blind, positive- controlled trial to assess the efficacy of glucosamine/chondroitin sulfate for the treatment of dogs with osteoarthritis. Veterinary Journal 2007; 174: 54-61.
Altilio M, Peal A, Alvey M, et al. Therapeutic Efficacy and Safety of Undenatured Type II Collagen Singly or in Combination with Glucosamine and Chondroitin in Arthritic Dogs. Toxicology Mechanisms and Methods 2007; 17: 189-196.
Mehler SJ, May LR, King C, et al. A prospective, randomized, double blind, placebo-controlled evaluation of the effects of eicosapentaenoic acid and docosahexaenoic acid on the clinical signs and erythrocyte membrane polyunsaturated fatty acid concentrations in dogs with osteoarthritis. Prostaglandins, Leukotrienes and Essential Fatty Acids 2016; 109: 1-7.
Alves JC, Santos AM, Jorge PI. Effect of an Oral Joint Supplement When Compared to Carprofen in the Management of Hip Osteoarthritis in Working Dogs. Topics in Compan An Med 2017; 32: 126-129.
Hielm-Bjorkman A, Roine J, Elo K, et al. An un-commissioned randomized, placebo-controlled double blind study to test the effect of deep sea fish oil as a pain reliever for dogs suffering from canine OA. BMC Veterinary Research 2012; 8: 157- 171.
Fujiki M, Shineha J, Yamanokuchi K, et al. Effects of treatment with polysulfated glycosaminoglycan on serum cartilage oligomeric matrix protein and C-reactive protein concentrations, serum matrix metalloproteinase- 2 and -9 activities, and lameness in dogs with osteoarthritis. Am J Vet Res 2007; 68: 827-833.
Reichling J, Schmokel H, Fitzi J, et al. Dietary support with Boswellia renin in canine inflammatory joint and spinal disease. Schweiz Arch Tieheilkd 2004; 146:71-79.
Bui LM, Bierer TL. Influence of green lipped mussels (Perna canaliculus) in alleviating signs od arthritis in dogs. Vet Ther 2003; 4: 397-407.
Scott RM, Evans R, Conzemius MG. Efficacy of an oral nutraceutical for the treatment of canine osteoarthritis. Vet Comp Orthop Traumatol 2017; 30: 318-323.
Roush JK, Dodd CE, Fritsch DA, et al. Multicenter veterinary practice assessment of the effects of omega-3 fatty acids on osteoarthritis in dogs. J Am Vet Med Assoc 2010; 236: 59-66.
Roush JK, Cross AR, Renberg WC, et al. Evaluation of the effects of dietary supplementation with fish oil omega-3 fatty acids on weightbearing in dogs with osteoarthritis. J Am Vet Med Assoc 2010; 236: 67-73.
Fritsch DA, Allen TA, Dodd CE, et al. A multicenter study of the effect of dietary supplementation with fish oil omega-3 fatty acids on carprofen dosage in dogs with osteoarthritis. J Am Vet Med Assoc 2010; 236: 535-539.
Bauer JE. Therapeutic use of fish oils in companion animals. J Am Vet Med Assoc 2011; 239: 1441-1451.
Vandeweerd JM, Coisnon C, Clegg P, et al. Systematic Review of Efficacy of Nutraceuticals to Alleviate Clinical Signs of Osteoarthritis. J Vet Intern Med 2012; 26: 448-456.
Boothe DM. Nutraceuticals in veterinary medicine, Part 1: Definitions and regulations. Compend contin Educ Pract Vet 1997; 19: 1248-1255.
Moreau M, Dupuis J, Bonneau NH, Desnoyers M. Clinical evaluation of a nutraceutical, caprofen and meloxicam for the treatment of osteoarthritis. Veterinary Record 2003; 152: 323-329.
Dobenecker B, Beetz Y, Kienzle E. A placebo-controlled double-blind study on the effect of neutraceuticals (chondroitin sulfate and mussel extract) in dogs with joint diseases as perceived by their owners. J Nutr 2002; 132(Suppl): 1690S-1691S.
Rialland P, Bichot S, Lussier B, et al. Effect of a diet enriched with green-lipped mussel on pain behavior and functioning in dogs with clinical osteoarthritis. Canadian Journal of Veterinary Research 2013; 77: 66-74.
Innes JF, Fuller CJ, Grover ER, et al. Randomized, double-blind, placebo-controlled parallel group study of P54FP for the treatment of dogs with osteoarthritis. Vet Rec 2003; 152(15): 457-460.