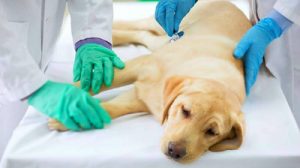 A nationwide survey conducted by Wedgewood Pharmacy aims to show the unintended consequences for veterinary medicine caused by the Drug Enforcement Administration's (DEA) efforts to address the national opioid crisis.
To address the misuse and diversion of opioids by people, the DEA has proposed an average 10 percent decrease in the 2019 manufacturing quotas for six frequently abused opioids, including five key Class II opioid drugs commonly used by veterinarians.
When supplies of these drugs are limited, manufacturers and distributors give preference to allocating supplies for use in human health, creating shortages for veterinary medical practitioners, Wedgewood said in a statement.
Key survey findings:
In 2017, anywhere from 27 to 73 percent of veterinary professionals have had difficulty obtaining necessary supplies of five opioids (hydromorphone, morphine, fentanyl, hydrocodone, and oxymorphone) they consider "important to your practice and to your patients' health" by 50 to 80 percent of respondents.
Shortages of these opioids have led to the use of less effective, non-narcotic alternatives such as NSAIDS (83 percent), increased patient suffering (71 percent), use of a local anesthetic (49 percent), postponed procedures (26 percent), and patient deaths (3 percent)
88 percent of respondents "rarely" or "never" see the four warning signs published by DEA that a client is potentially abusing opioids; nevertheless, 63 percent "have training and/or procedures in place for medical and other staff members to recognize the signs of opioid abuse"
The results will be included in formal comments the company will submit to the DEA regarding the proposed production quota reductions.
"Shortages limit therapeutic choices and are especially problematic given the number of species veterinarians treat—from tiny kittens to large dogs, horses, and even elephants—and how different species react to opioids or their alternatives," said Michael Blaire, RPh, FIACP, vice president, Government and Regulatory Affairs for Wedgewood. "Shortages demand that veterinarians frequently change medications and pain-management protocols, and this increases the risk of medical errors. While we applaud DEA's efforts to address the national opioid crisis among humans, we're asking them to be thoughtful about the impact the actions they take will have on the animal patients owned by 68 percent of American homes and the millions of animals in zoos, aquaria, stables, shelters, hospitals, research facilities, police, and military facilities. We need to work together to address a national crisis in human health while continuing to provide veterinarians with the medicines they need to practice."