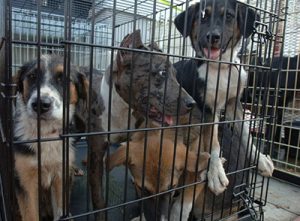 Banfield Pet Hospital revealed in a recent survey that 91 percent of pet owners are unprepared for the next natural disaster.
In advance of hurricane season and in honor of the Federal Emergency Management Agency's National Animal Disaster Preparedness Day on May 12, the Banfield Foundation has kicked off a disaster preparedness campaign to help pet owners prepare for the unexpected.
From May 10 through September 30, for every donation of $45 or more made at BanfieldFoundation.org/kit, the Banfield Foundation will thank donors with a pre-assembled pet disaster preparedness kit—and donate a kit to vulnerable pet owners in select high-risk states, up to 1,000 kits.
The kits feature a waterproof bag that includes a blanket, treats, stress-relief products, water and food calculation charts, tips and checklists to help keep pets cared for in the event of a natural disaster, and more.
All donations will support the Banfield Foundation's Disaster Relief Grant program, which aids nonprofit animal organizations and local communities impacted by natural disasters.
Texas A&M joins the cause
In 2017, the Banfield Foundation provided a disaster relief grant to Texas A&M University's Veterinary Emergency Team (TAMUVET)—the nation's largest and most-deployed veterinary emergency response unit—to unveil the university's first custom, fully equipped veterinary medical unit. The 25-foot truck, which can be deployed anywhere in the U.S., expanded TAMUVET's response capability.
To help educate pet owners and raise awareness of the importance of disaster preparedness, the foundation has partnered with TAMUVET to share survival tips:
Create a pet disaster preparedness kit. Include three to seven days of food and water and two weeks' worth of medications. Talk to your veterinarian about emergency planning and what to include in a kit for your pet based on their specific needs, such as medical and vaccination records, microchip and provider information, and photos of you with your pet in case of separation.
Take pets with you. Never leave your pets behind—in vehicles, tethered, or crated without you or a member of your family. Identify and prepare a list of places to evacuate to with your pets, such as pet-friendly hotels or boarding facilities, and include contact information and addresses for each. Include contact information for your veterinarian, as well as emergency veterinarians in nearby cities.
Microchip pets. Banfield found more than half of those surveyed do not have their pet microchipped. In addition to ensuring your pet always wears current ID tags, talk with your veterinarian about microchipping your pets—and keep your account and contact information current—to increase the likelihood of a reunion if you are separated from your pet.
"We know all too well that disaster can strike anywhere, anytime—and last year alone, numerous families and pets were affected by hurricanes, wildfires, and flooding," said Wesley Bissett, DVM, founder and director of TAMUVET. "Historically, animals have been ignored during disasters, but they deserve our help. Coupled with the impact that saving a pet has on someone who may have lost everything else—that's indescribable. If we can help just one pet owner be better prepared, then we've made a measurable difference."
Visit banfieldfoundation.org/kit for more information or to donate to the Banfield Foundation.