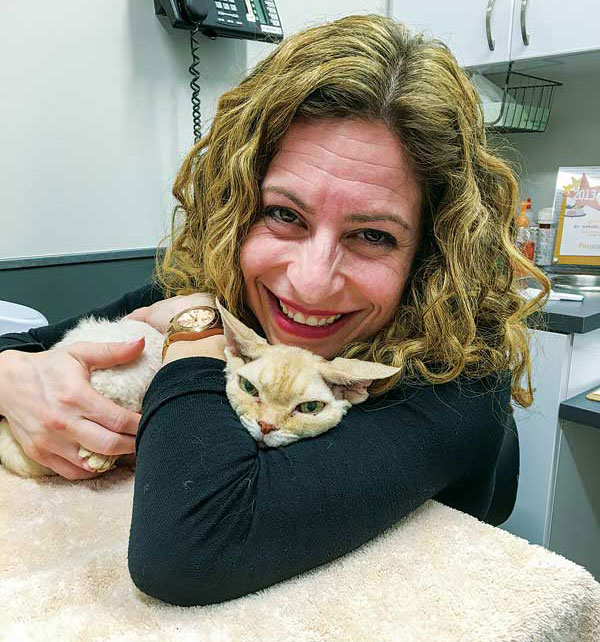 I am a certified animal behavior consultant and am honored to be so closely associated with the great profession of veterinary medicine. However, when all is said and done, I am just another client, owner to a lovable bow-legged and arthritic Devon rex.
At nearly 18 years of age, Roxy is in pretty decent health, with some assistance from pharmaceuticals. We give her chlorambucil twice weekly for presumed intestinal lymphoma. (It's presumed because that's what the lab said after reading the biopsy results.) In any case, the drug and a therapeutic diet have dramatically reduced her GI signs for several years now.
However, her osteoarthritis (OA) has worsened over the last while. And because of her history of GI issues, there are few options. At first, the gabapentin Roxy was prescribed only increased her catnap time, but my friend, Robin Downing, DVM, MS, DAAPM, DACVSMR, CVPP, CCRP, to whom I turned to for advice, felt it appropriate to slowly increase the dosage.
An expert in pain management, Dr. Downing consulted with my Chicago, Ill.-based primary care practitioner, Natalie Marks, DVM. While some practitioners might be offended by input from another veterinarian, Dr. Marks welcomed Dr. Downing's contribution.
Aside from going ahead with chlorambucil, Dr. Marks had already suggested a probiotic supplement and vitamin B12 for GI support, as well as a joint supplement to manage her OA. (Roxy is also on amlodipine besylate for hypertension.) Meanwhile, Dr. Downing gradually upped the gabapentin dose to 100 mg (twice daily), though Roxy is only 6.5 lbs. She was totally correct to increase the dosage, ever so slowly titrated, which hasn't made Roxy any drowsier.
"Multimodal is the best approach for osteoarthritis for nearly all cats," Dr. Downing told me. To that end, we began using a pulsed electromagnetic field therapy (PEMF) device to treat Roxy's pain and inflammation, helping not only her osteoarthritis, but potentially her GI issues.
Enter massage therapy
Roxy truly benefited as a result of the 2018 collaboration between Dr. Downing and Dr. Marks. However, this past March, I noticed she appeared to be struggling a tad more. I asked Dr. Marks for advice.
"The struggle we have as small animal practitioners is that we only have certain pain medications that are safe and approved for cats as they age, and many are contraindicated for cats with other conditions," Dr. Marks said. "Our goal (for our patients) is to provide the best quality of life and to make them as pain-free as possible every day. The beauty of veterinary medicine today is that we have a variety of integrative therapies that are readily available, [including] medical massage therapy. And [remote] technology can deliver a way to demonstrate options as never before."
Dr. Marks suggested I contact Rosemary LoGiudice, DVM, DACVSMR, CCRT, CVA, CVSMT, FCoAC, who is in Hanover Park, Ill. She is at least an hour's drive from my home, not to mention all this was happening in July at the height of the pandemic.
Queue a telehealth session between myself and Dr. LoGiudace. While she noted she would have wanted to get her hands on Roxy to feel her flexibility and sense any heat in her joints, she was able to communicate with Dr. Marks prior to our Zoom call. Dr. Marks has known Roxy most of her life and had very recently examined her.
Using my smartphone, I took video of Roxy moving in her own element from different angles as directed by Dr. LoGiudace. "When I can see the dog, cat, or horse moving in a natural way, I can, of course, get a good feel for stride and how the joints are moving," she remarked. "Very few dogs and cats are going to show me in the exam how they move at home."
During our show-and-tell call and with the help of a plush toy, Dr. LoGiudace showed me exactly how to massage Roxy, where to do it, and how much pressure to apply. Old-school written directions could never replicate her demonstrating massage techniques, while watching me and directing me to move my hand this way or that.
I gradually spent more time massaging Roxy, who not only didn't fend off the nightly "spa treatment," she began to request it. And when I stop, she paws at my face demanding more.
"Are you kidding?" Dr. Downing exclaimed. "If this was causing Roxy pain or discomfort, or if she didn't enjoy it, she still moves well enough to walk away."
Watching video of Roxy two weeks post the start of the Dale Spa treatment, Dr. LoGiudace wasn't surprised about the impact of medical massage to slightly, but noticeably, increase Roxy's mobility and interest in exploring or moving to whatever room my wife and I are in. However, she is now inspired about the idea of using video and video chat to support clients in a way she hadn't thought about.
"I absolutely saw a difference in Roxy, and I have perspective knowing her for more than half her life," Dr. Marks explains. "What I really loved about this collaboration is that it isn't only about considering integrative care. It's about how veterinarians are being creative to help all involved, especially at this time. And right now, we do need to be creative. I hope this specific type of partnership and using technology in the way we did with Roxy becomes a model and sticks around long after the pandemic."
Dr. Downing agrees. "Make no mistake, there's no substitute for being hands-on with our patients, and for office visits, but you can certainly observe more remotely than what is possible in an exam room." And she believes this virtual show-and-tell service should include a fee. "All this not only benefits the patient, but the client feels, 'I'm helping my pet,' and that helps to cement the human-animal bond. What's more, when positive interactions with the primary care veterinarian occur—and it's clear all that matters most is the well-being of the patient—that further bonds the client to the practice. I am absolutely certain what Roxy has experienced and benefited from will soon be standard of care."
Steve Dale is a certified animal behavior consultant who speaks at animal welfare and veterinary conferences. Visit his website at stevedale.tv. Columnists' opinions do not necessarily reflect those of Veterinary Practice News.