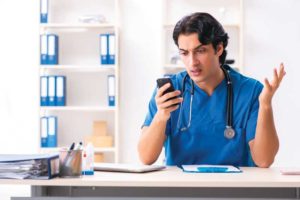 The idea of implementing telehealth within a veterinary practice may be confusing or even downright scary to some. However, when there is understanding of what it is and its governing laws, it can become exciting. We hope to clear some muddy waters for veterinary team members who are eager to support and participate in the delivery of telemedicine to clients.
Believe it or not, you're probably already doing some of it. Just by picking up the phone and checking on the status of a patient, you've delivered virtual care. Further, incorporating telemedicine's tools and technology allows the veterinary team to provide even more services and care. Today's pet owner wants more than just the traditional veterinary hospital experience.
The best advice is to first understand your own state's veterinary board (i.e. examiners) and the federal laws governing telehealth. Some of these are newly applied laws that are taking effect at different times in various states.
Teams are encouraged to discuss, as a group, the hospital's philosophy related to virtual care, the importance of a veterinarian-client-patient-relationship (VCPR),1 and the different roles when offering the services and care. We want your experience in providing these new benefits to be a great opportunity for your team, the client, and the patient.
Definitions are a good place to start
Thankfully, the American Veterinary Medical Association (AVMA) and the American Animal Hospital Association (AAHA) have put together a comprehensive brochure, "The Real-Life Rewards of Virtual Care" that provides an overview of telemedicine's terminology.
Virtual care
Think of virtual care as the principal term covering all modalities used to deliver veterinary care remotely. Basically, virtual care encompasses any technology interaction between the veterinary team and the client and patient.
Telehealth
Telehealth refers to all types of technology used to remotely deliver health information, education, or care. There are essentially two categories divided by the distinction of whether a VCPR is present or not. When there is no VCPR, telehealth can be offered only as advice (i.e. nothing that can be construed as prognosing, diagnosing, or prescribing), teletriage, telemarketing, or advertising.
Teleconsulting falls under telehealth. This is when a veterinary specialist uses telehealth technologies to offer insight and advice on the care of a patient to another veterinarian.
Telemonitoring is considered a tool within telehealth where specific parameters of the patient can be relayed back to the hospital for evaluation.
In teletriage, a diagnosis is not rendered. Instead, safe, appropriate, and timely advice is given based on feedback from the client, either orally or through videos or pictures. Then a decision can be made if a referral to a veterinarian is required.
Telemedicine
Since telemedicine is an actual exchange of medical information, it can only be offered within an existing VCPR. This is critical to ensuring veterinary medicine is being practiced legally and at a high standard of quality.
While the requirements of the VCPR may vary slightly from state to state, it is important the relationship is clearly established prior to using telemedicine. Without it, only tele-advice or teletriage is appropriate. A VCPR that cannot be established via technological means must happen through face-to-face, hands-on interaction.
In summary, a VCPR is established when:
• the veterinarian has knowledge of the patient via timely exams to be able to provide diagnosis of any medical conditions;
• the veterinarian makes clinical judgments regarding the patient's health, with the client agreeing to follow any given instructions;
• the veterinarian is accessible for follow-up evaluations, care, or treatments, or has made the appropriate arrangements;
• oversight of treatment, compliance, and outcome is provided by the veterinarian; and
• medical records of the patient are maintained.
Telemedicine is not a unique discipline, but rather a tool to extend the practice outside the physical walls of a building. "Examples include using Skype or a mobile app to communicate with a client and visually observe the patient for a postoperative follow-up examination and discussion," as stated in the virtual care brochure.2
Team-delivered virtual care
Now that you have a basic understanding of the terms, you may be envisioning ways in which the veterinary team can support virtual care. (Yes, this is the awesome part!) Consider the following scenario:
"It is the year 2025. You [licensed veterinarian] are sitting in your office and your certified veterinary technician (CVT) has just video-conferenced you from the living room of a longtime client of yours. The patient in question is Willow, a seven-month-old female spayed Mastiff with an area of alopecia on her head. The CVT completes and shares with you her thorough physical exam and you both determine no other significant findings. She performs a deep skin scraping of the area, examines the slide through the microscope in her truck, and finds Demodex mites. You prescribe Ivermectin for the puppy and, since it is a commonly used pharmaceutical, your technician is able to dispense it from her truck. The client will schedule a video conference recheck in three weeks. As you hang up, your second technician buzzes in right on time for your next appointment."3
What an efficient method to convey care. Consider how trained and trusted veterinary technicians and nurses can be extensions of the veterinarian. Now that is exciting! Think about all the clients that would greatly appreciate the convenience and elevated care of their beloved pets from their own homes.
Here is another example of how telemedicine can be used, this time, in large-animal veterinary medicine. A veterinarian in Fort Collins, Colo., has a client on the Western Slope of Colorado, which is 300 mi. away. There is a valid VCPR in place. The veterinarian's CVT is entrusted and leveraged in appropriately gathering and conveying test samples, as well as relaying valuable information regarding the herd's health back to the attending veterinarian.
This is a realistic opportunity. The Colorado State Board of Veterinary Medicine convened a committee to evaluate and write guidelines related to the use of technology in the delivery of veterinary medicine. The policy was adopted last October.4
As you can imagine, telemedicine services can take on many forms, depending on the needs of the client, the leveraging of the veterinary team, and the use of remote technologies. Examples include:
1) Postsurgical care
2) Hospice care
3) After-hours care
4) General wellness advice
5) Expanding access to veterinary care
Consider using this article and the "Real-Life Rewards of Virtual Care" brochure as tools at an upcoming meeting to review the concepts, definitions, and models.
Telemedicine's future looks promising
Telemedicine guru Rolan Tripp, DVM, sees great opportunity on the horizon. "Simply because of supply-demand market forces, veterinary team incomes will rise, the cost of a veterinary education will make more economic sense, and quality of life for all members of the veterinary team will improve."5 That is music to our ears!
After all, it's about elevating the profession, improving access to veterinary services, and providing animals with the best care possible.
Remember the importance of the VCPR to ensure compliance with your state's laws regarding telehealth and to properly deliver telemedicine at a high standard of care. By clearly understanding these aspects, virtual care is no longer confusing or scary and becomes exciting.
Rebecca Rose, CVT, director of possibilities at CATALYST Veterinary Practice Consultants, has a diverse background in the veterinary community, working in and managing clinics, collaborating with industry partners, and facilitating engaging team workshops. Denise Mikita, MS, CVT, CATALYST's manager of possibilities, brings extensive knowledge in practical clinic experience, organizational management, and team dynamics. Combined, the authors have more than 50 years' experience in elevating veterinary teams. In addition, they have sat on veterinary councils, led state and national professional organizations, and have volunteered for animal welfare groups. Rose and Mikita can be reached via getCATALYST@CATALYSTVetPC.com.
References
1 AVMA Model Practice Act Definition of VCPR, 2017: bit.ly/2eXHJT6
2 "The Real-Life Rewards of Virtual Care; How to Turn Your Hospital into a Digitally Connected Practice With Telehealth." AVMA and AAHA, 2018: bit.ly/2WJj1t9
3 "Telemedicine: From your Exam Room to their Living Room" Veterinary Business Advisors. bit.ly/2Sdx1N0
4 Colorado Veterinary Board Guideline for the Appropriate Use of Technologies in the Practice of Veterinary Medicine, 2018, https://drive.google.com/file/d/1UFTLgis8XDwO_gaTnPN_PxC-oRgqebfC/view
5 "What the future may hold for televeterinary medicine," Rolan Tripp, Veterinary Practice News, October 2018, bit.ly/2SczGH3