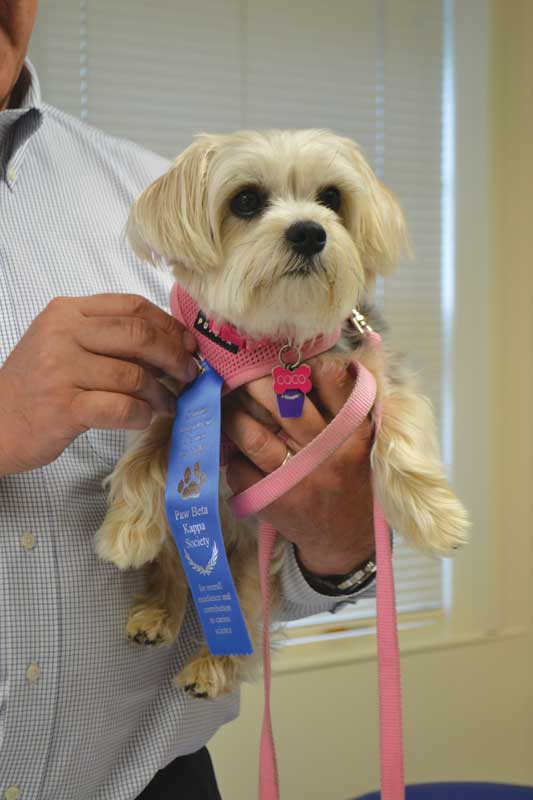 The Canine Science Collaboratory, located in the Department of Psychology at Arizona State University in Tempe, is on a unique mission: to better understand the behavior and cognition of dogs and their wild relatives. It's an ambitious goal with tremendous implications for dogs, owners, veterinarians, and others who work with one of America's most popular pets.
"There are an estimated 80 million pet dogs in the United States today, and probably on the order of one billion dogs worldwide," said Clive Wynne, Ph.D., professor of psychology and director of the Collaboratory. "Those animals, especially pet dogs, bring tremendous joy to a great many people's lives, and I think it is appropriate for scientists to understand how that is possible. That's a very reasonable thing to be curious about."
The Collaboratory—so named because it often collaborates with scholars outside the realm of psychology—is far from alone in its quest to better understand the minds of our canine companions. According to Laurie Santos, Ph.D., professor of psychology at Yale University and director of the school's Canine Cognition Center, it is estimated that around 10 such facilities of varying sizes and missions are located in the US, with a handful of others established internationally.
The first canine cognition laboratories were founded in the 1990s, according to Wynne, who authored a paper on the history of dog psychology. The Family Dog Project, founded in 1994 at Eötvös Loránd University in Budapest, Hungary, by Vilmos Csányi, Ádám Miklósi, and József Topál, is currently the largest dog research group in the world, with more than 100 studies published in peer-reviewed journals. The field got another boost in the 1990s when Brian Hare, Ph.D., expanded his cognition research to include dogs while a graduate student at Harvard University. Today, Hare is an associate professor of evolutionary anthropology at Duke University in Durham, N.C., and co-director of the Duke Canine Cognition Center.
Viewing research differently
Animal cognition research dates back to the 1960s, and has evolved considerably over the years, said Wynn. No longer are the dogs used in cognition studies owned by universities and kept in kennels; almost all of them now are family pets whose owners are excited to participate in cognition and related research.
"It's good for people to know that the research we are doing is relatively noninvasive and a lot of fun for the people and animals involved," said Alyx Reinhardt, DVM, a rotating intern in small animal medicine at the Ohio State University Veterinary Medical Center who used to work at the Duke Canine Cognition Center. "I used to jokingly say that everyone has their own interpretation of research—I played games with dogs all day."
The areas of study across the various canine cognition centers in the US and abroad is eclectic, and range from memory to behavior to evolutionary anthropology to how dogs view the world around them. At Arizona State University, for example, Wynne and associates are looking at ways to improve the shelter experience for dogs with an eye toward making them more adoptable. Another project, still in its infancy, will examine how dogs' memories fail in old age, work that could have promising implications for human research on Alzheimer's disease.
"This is very exciting because dogs are the only non-primate animals that spontaneously develop something like Alzheimer's disease," Wynne said. "Because dogs live around one-seventh as long as the average human, any treatments or interventions could be trialed on dogs and researchers would find out in one-seventh time if it was likely to work."
Behavioral genetics is another area of research at the ASU Collaboratory, which recently collaborated on a paper that identified three specific genes in dogs that are linked to their generally outgoing nature.
"These same genes are associated with a rare condition in humans called Williams syndrome, which is characterized in part by hyper sociability and extroverted behavior," Wynne said.
At the Canine Cognition Center at Yale, research is aimed at understanding how dogs learn from humans and how they are affected by human emotions, among other topics.
"Our core goal is to discover how humans have impacted the lives of dogs, in order to understand how we might improve the ways we train, work and live with dogs," Santos said.
Meanwhile, at the Canine Cognition Center at Duke University, researchers are studying cognitive tests as predictors of service dog success, according to co-director Margaret Gruen, DVM, Ph.D., DACVB, one of the few veterinarians working in the field.
"Often success is measured by temperament or olfactory ability," she said, "but it looks like there are actually some cognitive measures that are associated with success a well."
The center also is working with a wolf sanctuary in Minnesota to compare the social cues and temperament assessment of domestic dog puppies and wolf puppies, among other projects.

Locating test subjects
Canine cognition labs find their test subjects through various means. The Canine Cognition Center at Duke, for example, commonly studies dogs brought to the center or in the animals' homes. Wynne, however, prefers to study dogs in more social environments.
"By asking people to bring their dogs to me, I am imposing a burden on them," he said. "It's easier if we find a location, such as a dog park or dog day care, where we can approach pet owners and ask permission to study their pets."
The tools used by Wynne and his staff to study canine cognition are, by his admission, intentionally low tech. For example, to study canine behavior in shelters, they simply ask people for permission to record their interactions with the dogs they are considering adopting, and then analyze the animals' behavior.
"The way we study sociability is also very simple," he said. "We have someone sit in a chair, around which is a one-meter circle. We put a camera on the person, let in the dogs for two minutes and measure what portion of those two minutes is spent inside the circle."
A Collaboratory study of the benefits of temporary fostering on shelter dogs was a little more complex, however. Urine samples were taken, cortisol levels evaluated, and an activity monitor on the dogs' collars offered a measure of their activity level, he said.
Rachel Gilchrist, a research lab assistant at ASU, has worked at the Collaboratory since November 2014 and has been involved in studies looking at stress levels in a shelter environment, and primary and secondary reinforcers in teaching dogs new behaviors.
"On the latter, I worked with about 200 puppies 2 to 5 months of age and taught them how to sit and stay, and touch a traffic cone with their nose," she said. "I wanted to see if we could get them to learn the behavior quicker or in a better manner using different methods."
Researchers at the Duke Canine Cognition Center take a slightly different approach.
"What Dr. Hare's lab specializes in is tests that require no training, that really look at a dog's spontaneous performance on assessments," Dr. Gruen said. "We use simple things for motivation, such as treats, and different marker and communicative cues—things you can do in an expedient way with pet dogs."
The human-animal bond
The work done at canine cognition labs promises to improve the unique bond between humans and animals.
"That is at the center of what we're trying to do," Wynne said. "By understanding what dogs are and how they work and what they need, we can find ways to strengthen that bond."
Gruen agreed.
"Anything that raises awareness of the inner lives of dogs helps the human-animal bond," she said. "People love to bring their dogs in and have them go through the tests. They are so proud of their dogs and what they do, and I think that speaks to the human-animal bond."
Research into canine cognition may also benefit the veterinary profession, experts say. For example, some cognition researchers are working to make a visit to the veterinarian less stressful for canine patients, a nod to the growing fear-free movement.
"Understanding how my patients process their environment can better help me provide them with comfort and helps us as a community get a better understanding of what makes a dog think the way it does," said Dr. Reinhardt, who hopes to specialize in emergency and critical care.
Veterinarians who work with shelter animals will likely also benefit as research at ASU and elsewhere finds ways to make the shelter experience less agonizing for dogs, and in turn improve their chances of finding forever homes.