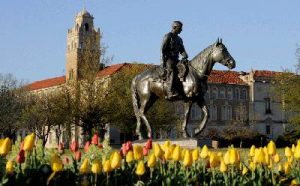 The Texas Tech University School of Veterinary Medicine (TTUSVM) in Amarillo, Texas, got one step closer to reality yesterday when the Amarillo City Council approved funding up to $69 million to ensure the school's construction.
The deal is an amendment to an agreement between the Texas Tech University System and the Amarillo Economic Development Corp.
TTUSVM will be the only veterinary school in the country co-located with a pharmacy and medical school on the same campus, expanding opportunities for translational medicine and research.
The Texas Tech vet school aims to address the shortage of veterinarians serving rural communities in a cost-effective manner by eliminating the need for a teaching hospital and partnering with local and regional veterinarians, according to a statement.
The project is supported by the Texas Cattle Feeders Association, the Texas and Southwest Cattle Raisers Association, and the Texas Farm Bureau, among others.
"Throughout the history of the Texas Tech University System, the Amarillo community has helped set the standard for support and cultivation of higher education opportunities," said Robert Duncan, chancellor. "We are grateful for Amarillo's partnership and shared vision for transforming the landscape of veterinary education to ensure the prosperity of our vital agricultural industries. Amarillo's commitment to bring the school of veterinary medicine to the Texas Panhandle will have an impact on a national and global scale."
The Texas Tech University Health Sciences Center Amarillo campus brings more than $166 million in annual economic impact to the region, according to the statement. When the veterinary school is established, the total economic impact of the campus is estimated to exceed $242 million annually for Amarillo, making it the community's eighth largest employer.
Visit amarilloedc.com for more information.
Related