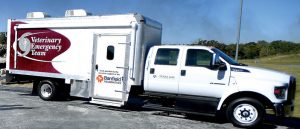 The Texas A&M University Veterinary Emergency Team now touts a new, custom 25-foot truck equipped with a veterinary medical unit that will give the team full medical capabilities in the event of a disaster.
The truck is a "tremendous step forward" for the seven-year-old team, according to Wesley Bissett, founder and director of the Veterinary Emergency Team.
"It has basically been developed and designed based on everything we've learned across the different types of deployments we've had," Bissett said. "The commitment to service is one of the things that sets Texas A&M apart, if you just look at our history, and this is honoring it. This [new truck] gives us the platform to do that."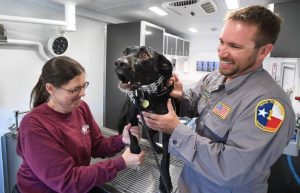 The new truck makes deployment quicker, maneuvers easier, and has full medical capabilities—ranging from decontamination to full surgery. Further, it includes 48 hours' worth of medical and pharmaceutical supplies, two fully insulated tent shelters, and more.
When the truck is not responding to disaster situations, it will be stationed at A&M's Disaster City training facility, where it will be used to educate veterinary students and provide a training opportunity for emergency response professionals, according to officials.
The Banfield Foundation provided the truck through its disaster relief grant program.