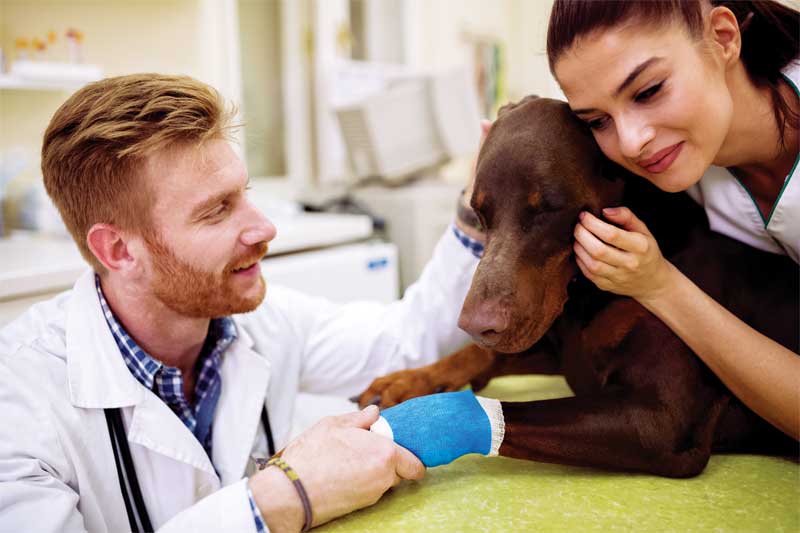 We often overlook the power of the personal bond when it comes to building a thriving community veterinary practice without sacrificing our well-being, our team members', or that of the animals in our care.
These bonds come in many forms: Patient to veterinarian, client to veterinarian, veterinarian to team member, and perhaps the most meaningful of all, veterinarian to veterinarian.
I had the best mentor: Ross Clark, DVM, of Tulsa, Okla. A diminutive man with an outsized intellect, personality, and influence, he was one of the pioneers of veterinary practice management, advocating an open-book approach to finances and keeping the focus on proven leadership principles.
Always seeking innovative ideas and answers to new challenges and age-old problems, I learned early on from Coach Clark that veterinary medicine didn't need to be a purely altruistic endeavor. Making money showed people valued what you had to offer, and you could use the income to build a future that included better employee wages, benefits, and training, as well as new equipment and technologies.
To allow me to hit the ground running as a newly minted veterinarian, Ross taught and trained me to do many things I still do to this day. Here they are:
Pick up the phone with a smile. Ross said to not only smile on the phone, but to smile at the person asking you to pick up the phone. He encouraged me to be the most willing and happiest veterinarian in the practice to pick up information calls. He correctly foreshadowed that if I did so, many, if not most, of the calls would be given to me, and as a result, they'd be booked as my appointments and would become my forever clients.
Do your own callbacks. Ross encouraged me not to listen to other practice management consultants who said to delegate callbacks to staff members. Instead, he said calling pet owners back yourself increases client satisfaction and bonds them not only to the practice in general, but to you personally.
Take the worry away. Pet parents coming to a veterinary practice are almost all worried. To this day, when I have to keep a pet for tests, procedures, or hospitalization, I tell the client, "It's our turn to worry about her now." You can just see the anxiety leave their faces. I follow up that promise with frequent updates from the trenches using technology that enables my smartphone to send texts/photos to the client that appear to come from the practice number. Pet owners feel so reassured seeing their animal resting on a fleece blanket or with little socks on his feet.
Of all the things he taught me, however, the most important was this: Reserve the best exams for your team.
Employees are clients, too
Ross—or "Get Wood" as he jokingly called himself (more on that later)—believed the people who work in veterinary practices (i.e. mostly receptionists, practice managers, bookkeepers, technicians, assistants, kennel attendants) didn't do so for the money, but rather for their lifelong desire to help animals and maybe to save a little on their veterinary bills.
The animals they wanted to help the very most were their own pets (or horses, or kids' 4-H animals). But the sad reality of most practices was that it was employees' pets who got the most perfunctory physical exams and workups.
Rather than being scheduled as regular exams, they were jammed in between the hectic realities of a harried veterinary practice, done piecemeal between exams, surgeries, and lunch. Employees would be asked to bring the pet to the treatment area for a very quick exam and were often tasked with doing diagnostic tests on their own pet, including getting blood samples, holding down for radiographs, administering meds, treating wounds, etc.
Ross made me promise the single most comprehensive and thorough exams I'd do in practice would be for the people with whom I worked. We'd schedule them to be done in an exam room, did medical rounds on their pets internally, even dig into the ol' Ettinger or call professors at veterinary schools when a particularly tricky case arose. No rock would be unturned in the quest to give the very best diagnosis, prognosis, and treatment plan possible. Additionally, team members would not have to work on their own pets (i.e. blood draws, catheter placements, radiographs, ear cleanings, nail trims, vaccinations) unless they wanted to. (To this day I don't like to vaccinate my own pets.)
What was the end result of all of this focus on staff members' pets? Employees realized you were giving your very best to their animals, something of extreme value that was often more important to them than their salary or position.
What we get out of this, besides personal satisfaction, is the enormous goodwill it generates with your team. It builds a strong bond of loyalty that goes both ways, ensuring the employee will support you and you will look out for them. Not only that, but they, in turn, promote the practice and individual veterinarians through passionate word-of-mouth recommendations (of even greater value today in the era of viral social media).
I will close with the story of "Get Wood." Ross was the youngest in a large Kansas ranch family. When he was a child, it was his job to keep the stove working. He joked that before he knew his name was Ross, he thought it was "Get Wood," as that's what he remembers hearing the most. That was yet another thing this amazing mentor taught me: To not have a god complex with other veterinarians or team members, but instead to be easygoing, fun, and quick to poke fun at myself. Always leave room for joy in your day.
Marty Becker, DVM, writes every other month for Veterinary Practice News. He is a Sandpoint, Idaho, practitioner and founder of the Fear Free initiative. For more information about Fear Free or to register for certification, go to fearfreepets.com. Columnists' opinions do not necessarily reflect those of Veterinary Practice News.